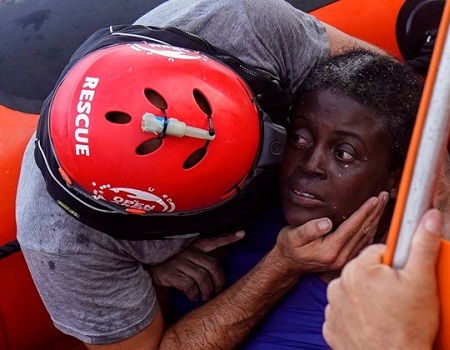 A sea rescue charity is taking a lone survivor and the bodies of two dead migrants found at sea to Spain, it said on Wednesday, after clashing with Italy over what should be done with them.
Proactiva Open Arms recovered the bodies of a woman and a young boy along with one surviving woman in a wrecked boat in the central Mediterranean on Tuesday, Reuters said.
It accused the Libyan coast guard of abandoning them and criticized Italy for shutting its ports to rescued migrants.
Proactiva subsequently said Italy had agreed to take in the survivor, but not the two bodies. As a result, the Spanish charity had decided to ask Spain to let it dock there, even though this would entail a much longer sea voyage.
Italy denied any suggestion it had blocked the boat, saying it had offered to let the Proactiva ship berth at one of two ports and disembark both the living and the dead.
It said it had refused them access to the tiny island of Lampedusa because it did not have cold storage facilities for the bodies there.
ALSO READ: 26 Nigerian women found dead on Spanish warship in Italy
"Despite the willingness of our Sicilian ports (to take them in), the NGO ship is going to Spain … Do they have something to hide???" Italian Interior Minister Matteo Salvini wrote on Twitter.
Libya's coast guard has denied having abandoned anyone at sea on Tuesday, but it did not explain how the three were left in the wrecked boat.
A journalist working for German RTL television said she had witnessed the rescue operation and praised the professionalism of the Libyan coast guards. "The team did everything they could to save everyone. The men were very compassionate," said Nadja Kriewald in a statement.
She added that the group of "more than 100" migrants had been at sea for three days without food and water and were close to death.
However, an Italian leftist parliamentarian, Erasmo Palazzotto, who was on board another Spanish charity boat in the same stretch of the Mediterranean, said Kriewald was talking about a separate rescue operation which she had witnessed some 80 miles away.