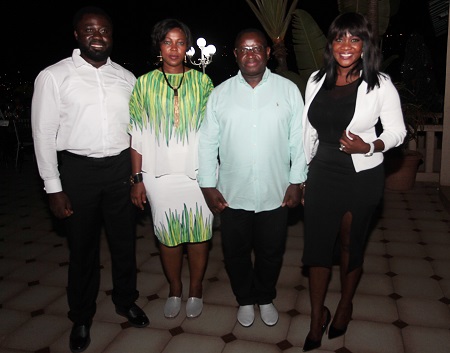 NOLLYWOOD superstar, Mercy Johnson-Okojie and her husband, Prince Odianosen Okojie, were the guests of the president of the Republic of Sierra Leone, Brigadier General Julius Maada-Bio and his wife, Fatima Maada Bio at their home in Freetown, Sierra Leone.
This dinner was a casual break from several activities marking the inauguration of Sierra Leone's latest president.
The president and his wife who are self-professed fans of Mercy entertained the star and her husband to dinner on the terrace of their home in the hillside of Freetown.
The spread was delicately prepared by the first lady herself.
Previously, Mercy Johnson Okojie was a special guest at the inauguration ceremony at the national stadium, a cocktail and the state ball which took place afterwards.
Mercy Johnson Okojie and her husband, Odi Okojie also met with the Sierra Leonian Vice President, Mohamed Juldeh Jalloh, Liberian president George Weah, and the first lady of Gambia, Fatoumatta Bah-Barrow.
"It was an honour to be a part of the celebration of Sierra Leone's democracy," she said.
ALSO READ: Liberians voting in presidential runoff election
"I am very thankful to the President, Retired Brigadier General Julius Maada Bio and his lovely wife for their warm welcome.
I am incredibly humbled and blown away by all the love I have received in Sierra Leone, she said.
It has been a one-of-a-kind experience and I will definitely be back again" she added. While in Sierra Leone, the Nollywood star visited the Princess Maternity Hospital and according to her, the love she received was "out of this world" and she will definitely be visiting Sierra Leone again.