16-year-old Adedipe Oluwatosin was on Monday crowned Young Scientist of the Year, after winning the Young Nigerian Scientist Presidential Award at a ceremony held at Eagle's Square, Abuja. Adedipe emerged best at a competition organised by the Federal Ministry of Science and Technology, out of a total of 774 candidates (drawn from all the local government areas in the country) who participated both at the preliminary and the final stages. In recognition of this achievement, the Ekiti State Government very recently awarded a cash prize of N2.5 million to Adedipe as well as an annual scholarship grant of N1m per annum for a period of four years as funding for his undergraduate studies. In this interview, the SSS III student from Shepherd International School, Ado-Ekiti, who was also the 2016 winner of the Science Teachers Association of Nigeria (STAN) National Science Competition, shares with NAZA OKOLI the story of his journey to success.
Young Scientist of the Year – it sounds like a big title. How did all start?
I was selected after the preliminary stage to represent Ekiti State at the national level. At the national level, I contested alongside representatives from the 36 states and the Federal Capital Territory.
What subjects did you do in the competition?
I did Mathematics, Physics, Chemistry and Biology. They were all written objective questions.
What would you say were the skills that helped you excel?
The time allotted for the papers was limited. Hence, I maximised my time wisely by solving the questions that I knew very well, first, before attempting to solve questions that I was not familiar with. I also used intelligent guesses by eliminating options that I knew could not be correct.
How did you receive the news of your victory?
The results were announced immediately after it was marked on the same day we did the examination, at the venue. I felt so excited; it was great being the best student once again in Nigeria, after my earlier victory at STAN National Competition.
Tell us about your upbringing; what kind of home did you grow up in?
I was born in Ado-Ekiti, Ekiti State. I am the first child in my family; I have three brothers younger than me. My father works as a project coordinator in the public service, and my mother is a teacher.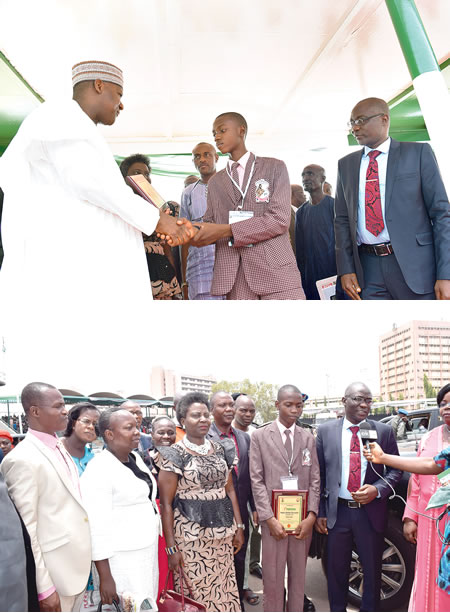 Who has been the greatest influence in your life?
My parents have been the greatest influence in my life. They have been so supportive, and they helped me to become who I am today by their words of encouragement, prayer and love.
What do you want to be in future?
I want to be a doctor; I want to save lives.
Many believe that the field of science and technology hasn't been given the kind of attention it deserves.
How do you think the country can better utilise the resources available in this area?
I think the problem lies in our priorities. The resources we have are not being properly managed. We are focussing so much on one sector, which is oil. Other viable sectors like technology have been abandoned for so long. So the solution is just about changing our priorities. The government must invest more in science and technology. I am happy the president has started because this competition now would help to encourage young people to do science. They should also put those who are qualified in the different positions, especially when it comes to science and technology.
Would you want to contest for a political office so that you would be able to solve some of these problems?
I would not want to dabble in politics to solve Nigeria's problems. However, I would always recommend solutions to the government; I would always advise the government to prioritize science and technology. I can also set up an NGO to do this.
Do you have a favourite subject?
Yes. I love Mathematics.
In your experience, what would you say is the secret to success?
I think the secrets to success are hard work, determination, vision, and so on. But the greatest secret is God, because with God, all things are possible.
What other things do you do, apart reading science?
I love to play video games like football, racing, and others. I also love playing Chess and Scrabble.