Many of those jostling to be president don't love Nigeria —Primate Ayodele
•Reveals what would happen to PDP, Tinubu, others in 2023 election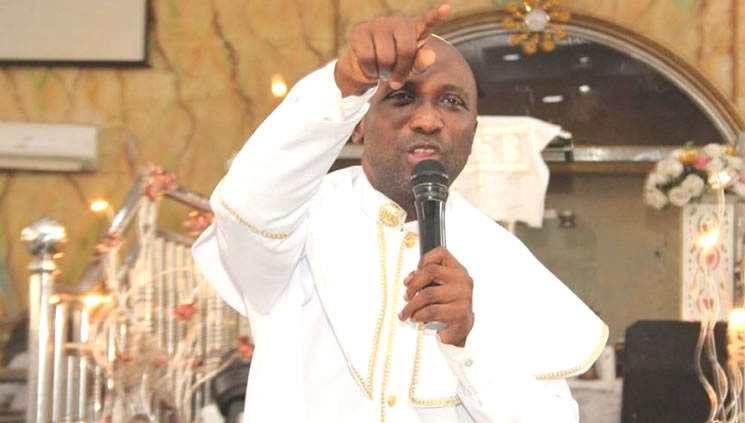 Renowned seer and spiritual head of Inri Evangelical Spiritual Church, with headquarters in Lagos, Primate Elijah Ayodele, in this interview by KEHINDE OYETIMI, speaks on what Nigerians and the entire world should expect both in the economic and political spheres.  
Last year in your published book, Warning to the Nations, you warned Bola Tinubu against contesting, saying he would be betrayed. Aregbesola, Osinbajo, and some others are perceived to have done so. What is happening now?
We have said it before that Tinubu's boys would betray him. This has come to pass. Has Yemi Osinbajo done what no one has ever done before? He has declared his intention to run to be Nigeria's president in the forthcoming election. Is his intention a sin? Is it a sin to tell the world what he wants? He has not committed any sin. What he has done is right. The major thing is that nemesis has caught up with Tinubu. This will affect Tinubu so much that Tinubu will not be president of this country. Let the presidency be given to Tinubu free of charge, Nigeria will sink under him; Nigeria will be destroyed under Tinubu. The damages done on Nigeria under Buhari will worsen with Tinubu as president. I do not hate Tinubu. On my own selfish part, I want Tinubu as president. But when God says no, who am I to say yes?
So Osinbajo has done nothing wrong that is against the wish of God. The point is that Osinbajo too cannot be president. Let more people come out and let's see who the cap fits. Neither Tinubu nor Osinbajo can be president. Whether there is zoning or not—for us to be very honest—the next person to be president should be an Igbo. It is either the president comes from the South-East or North-Central. Those two regions have never produced the president in this country. It is not even the turn of the South-West. It is not even the turn of the North. If we desire peace and oneness as a nation, the South-East or North-Central should have it. If the Igbo missed it, their great-grand children will curse this generation. This is what the Lord has said to me. I am not afraid to say it. I am not afraid of anybody.
Many of these people running up and down, that they want to rule Nigeria, do not really love this country. To be very fair, the next president should be from the South-East. Where are people like Peter Obi, Ngige, Anyim, Ekweremadu, and others? This is the best time for the Igbo to come out and make the presidency.
But many people say that the Igbo do not speak with one voice…
Whether they are united or not, whether they want it or not, they should get it. If the Igbo failed to have the presidency, Nigeria's politics would fail and many Igbo generations yet to come will never forgive this people. Igbo will not be remembered for anything in this country. That is why their great-grand children will curse this generation.
Repeatedly you warned that the Buhari presidency will worsen the problem of insecurity in Nigeria. Any hope?
Everywhere in this country is unsecured. We have not seen anything yet. Adeboye said he is not sure if there will be election in 2023. When we talk about cabals ruling this country, he is part of the Christian cabal. He is only lamenting. Meanwhile he is a pastor; he is not a prophet like us who will stand firm and say it the way it is. All these people are not prophets. Why didn't he say anything before now? He is lamenting now because things are getting worse. Is Osinbajo not from Adeboye's church? Why didn't he tell Osinbajo to resign, that this government is rubbish?
Nigeria should not allow those in the cabal to make it to leadership positions in 2023; people like el-Rufai are members of the cabal.
You prophesied the Abuja-Kaduna train attack. How did you feel when it happened?
I felt bad when it happened. The service chiefs should have resigned. But because there is no truth in this country, Nigerians want to die inside all of these. How many of them are like Kemi Adeosun, former Minister of Finance? She resigned. There is no dignity and integrity. It is very sad. They do not have shame. We have a lot of people. There are still there; we are not getting any result. What government is this? They are not doing what is good for the society. This government has failed, woefully. They don't have human feeling. This government lacks the fear of God. They don't want to hear the truth. There are cabals everywhere, among the Muslims and Christians. If I am a member of such Christian cabal, I would have been sacked for saying the truth. Many Christian and Islamic leaders do not want to say the truth. They are afraid. But I am not afraid. The point is that Nigeria is not moving on well under this government. Many of these kidnappers will abduct prominent Nigerians. Don't call these kidnappers bandits; they are sophisticated terrorists. Many more are coming.
Looking at the constitution of the APC leadership, and other parties, any expectation of fielding good candidates?
The new APC leadership will face many challenges. The new PDP chairman will also have his challenges. They should be forthright; there will be attempts to take their duties from them. Wike cannot be Nigeria's president. He is only shouting; he is only making noise. He is only wasting his money. At the moment, I don't want to say anything. I will talk at the right time when they finish their primaries.
Look at Enugu State; the best person who can make Enugu great is Ekweremadu. In Delta State, James Manager, Ogboru, Keyamo cannot get it. Let us seek the face of God to choose whoever will lead us. Going to Babangida, Obasanjo will not help. They are humans.
In Osun State, Oyetola should restrategise; he will win a second term. In Ekiti, they should not underestimate Oni. Oni will make some surprises but APC is still going to retain it. Meanwhile, more decampees will go to PDP.Sanwo-Olu's second term needs the grace of God.
If the PDP is not careful, it will lose the presidency narrowly. If election is held today, the APC will lose the presidency.
You predicted that Nigeria will not make it to the World Cup. Many criticized you for it. Did you reach out to NFF?
Nigeria did not qualify for the World Cup. Will anybody listen to me if I give them pieces of advice? To the glory of God, somebody close to NFF gave me Eguavoen's phone number. I called him over 50 times, he did not . I even sent him a text message. I wanted to help them but because of the negligence of Eguavoen, Nigeria lost. Even the NFF president was not willing to listen. It has cost us what we don't want. Pinnick cannot go for third term. The next president of NFF will come from the North and he will perform. Football has kept us as family in this country, and we don't want to fail. And I still believe that football can take us to places. At Cote d' Ivoire 2023, Nigeria must be there, not there as a team but to mean business in lifting the cup. That will be possible if they pick the right person as the NFF president. I also said it then that Chelsea will not win Champions League, they said I was lying.
Should we be hopeful about the economy?
I can still see the prices of foodstuffs skyrocketing. The price of diesel will also skyrocket. I warned sometime ago that there would be protest about the economy; there was protest. Economic hardship is still imminent. Some governors, senators will be stoned. If there is no stability about the economy, nothing will work. Some banks will run into trouble. If care is not taken, the forthcoming election might be changed. I am seeing hardship on Nigerians.
What should be expected at the global stage?
I said it before now that in the Kenyan election, the president will present a constitution that would not be accepted. He did so and it was not taken. Only God will help Odinga's biggest opposition to win. He must restrategise.
I warned earlier that in Tunisia, the president would be pressurized until he resigns. Sri Lankan president will also be pressurized to resign.
Mark my words, Putin will be assassinated. Putin will not relent; Ukraine will take over Russia. Russia will not get what it wants. We are still going to experience global economic crisis. Africa will suffer more from the global economic crisis.