Man's humanity to man: Story of youths taking care of mentally-ill persons
MUHAMMAD SABIU reports on a group of young persons who devote themselves to taking care of the mentally-ill in Kaduna and reconnecting some of them back with their families even without government support.
FOR a fact, Nigeria›s medical institutions are said to be grossly 'understaffed' considering the ratio of patients suffering from mental illness in the country and the number of personnel available to take care of them. Several reports and researches have estimated that there are only about 130 psychiatrists to an estimated population of over 180 million. Significantly, also, between 20 and 30 per cent of the population are said to be suffering from one mental illness or the other.
The paucity in the number of specialists in that branch of medicine might not have been helped by general perception about mental illness. In Nigeria, mental illness is still being perceived from a cultural lens that tends to stigmatise sufferers and even their families. There is a «shame» factor generally attached to it among a larger percentage of the population. This as well as other reasons may have been responsible for the lack of interest shown by people towards psychiatry as a course in the country.
Psychiatric service in the country is provided by only eight regional psychiatric hospitals and departments of psychiatry in 12 medical schools of universities. Some general hospitals also provide psychiatric services.
This probably explains why there are mentally-ill persons in almost every nook and cranny of the country, most of them living permanently on the streets and exposed to all forms of environmental conditions which could aggravate their conditions.
Some of the places where mentally-ill patients could be found include under bridges, under trees, street corners, abandoned or uncompleted buildings and markets. As close as they are to normal human beings, a majority of these people do not seem to care about their welfare.
According to an Islamic cleric, Ustaz Usman, "people stay away from mentally-challenged people for so many reasons. Sometimes they could be very hostile. That is why many people are afraid to associate with them, including the fact that most of them are extremely dirty or unkempt, wearing tattered clothes."
But one man Ahmadu Nahuntuwa, now deceased, did not share the social and cultural misconception about mentally-challenged people and how they should be treated in the society. He believed strongly that they should, indeed, be cared for and not avoided. They should be taken care of as a matter of service to humanity.
Nahuntuwa was credited to have created a foundation, Youth Foundation (YF), primarily to cater for the welfare of the mentally-ill in the society due to society's apathy to them.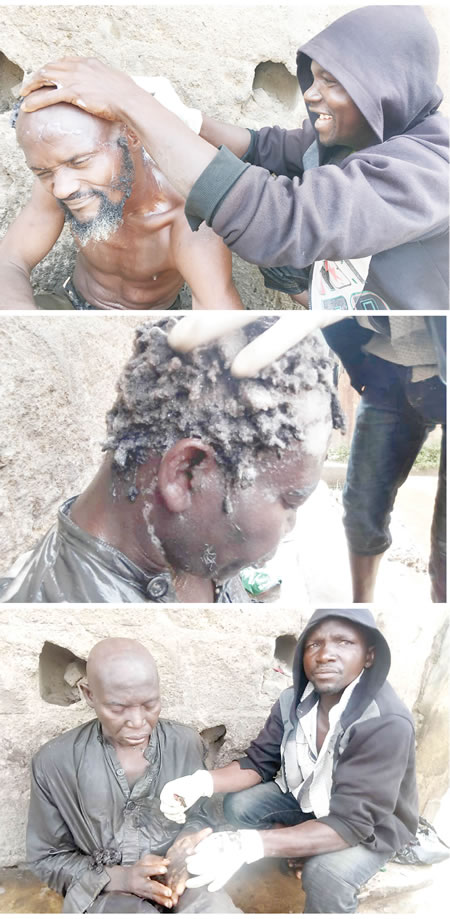 According to the current leader of the foundation, Usman Suleiman, the late Nahuntuwa had passion for taking care of the mentally retarded people. Suleiman recalled that Nahuntuwa spent his hard-earned money on the welfare of the mentally-ill. He added that members of the NGO would go round the city of Kaduna looking for mentally-ill persons in order to take care of them by bathing them, shaving their bushy hair and changing their clothes.
He continued: "when our leader died, we decided to carry on with this humanitarian work because he had instilled the value of taking care of the vulnerable people in us. However, what we do now is that every month, our group moves around the capital (Kaduna) as well as other villages surrounding the city to look for the mentally retarded people.
"When we meet such a person, we talk to him and take him to a secluded area and wash him thoroughly with soap. After that, we shave his dirty hair and change his clothes."
Suleiman told Arewalive further that "while doing that, some members of the group will be cleaning up his environment and thereafter we would present food to him and see that he ate before we took our leave."
According to Suleiman, the foundation had recorded many successes in the course of carrying out this humanitarian act. Many mentally-ill persons, he disclosed, had been reunited with their families after remarkable improvement in their conditions.
"We discovered too that some of them just need a little more care to rediscover themselves. After the clean up, they sometimes remember where they come from and they will tell us the name of their parents and their towns.
"At the end of the day, we give them transport money back to their respective homes. Today, many are happily re-united with their family members," he said.
Commenting on the number of mentally-ill patients that had been taken care of Suleiman said "we have so far cleaned up and rehabilitated over 100 lunatics since we started this work right from the time of our leader and mentor.
"Whenever we are going to meet them, we shed any sense of stigma. Instead we show them love and care. We make them feel like they are our friends. We don't use force or charm to make them succumb to our wishes whenever we want to wash them.
"We meet them in their places and tell them we want to clean them up. We have a place we assemble them and carry out the chores," he said.
One of the donors supporting the group, Salihu Yuguda, while speaking with ArewaLive said he was 100 per cent in support of what the youths are doing, saying "it is our responsibility to take care of the vulnerable amongst us, including the lunatics. I provide them with gloves, shaving sticks, detergents, bathing soaps, buckets, cups, sponges, perfumes, and so on," he said.
Another donor Mohammadu Kabiru, remarked that when the youths came to him to inform him of their activities, he promised to be providing them with clothes and he is happy to have kept to his promise.
The chairperson of the Foundation for the Protection of Women and Children in Nigeria, Hajiya Ramatu Tijjani, who has also been supporting the initiative of these young people, called on wealthy individuals, and corporate organisations to come to their aid and support these young individuals in this venture, saying, what they have been doing is for the good of all and worthy of emulation.
Hajiya Tijani also appealed to the state government through the Ministry of Women Affairs to evacuate all the mentally-ill persons women on the street as there is an increasing number of them who are now pregnant.
"We don›t know those who have been sleeping with them. But we know they are doing so intentionally for one reason or the other. Let the government have a home for these women with mental [challenges]," she declared.