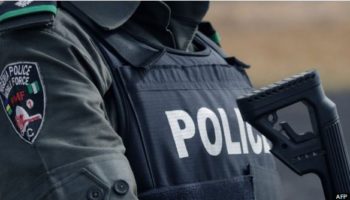 A young man was at the wee hours of Wednesday caught by vigilant members after severally stabbing a lady to dispose her of her phone at Agbassa community in Warri South Local Government Area of Delta State.
The hoodlum, simply identified as Emmanuel, was said to have trailed a lady, one Miss Avweruosuo, who going to take her bath and attacked her from behind.
The assailant, the source said, threw her violently on the ground and stabbed her in the back, shoulder and hand before making away with her phone.
The source, however, added that luck ran out of the fleeing criminal suspect as he crashed to the ground and was subsequently descended upon by youths who were awakened by the screams of the lady.
Another source said the suspect, who was caught around 2:00a.m of Wednesday, was beaten to a pulp and dragged to the community's secretariat on seeing the injuries he had inflicted on the victim.
The victim, Miss Avweruosuo, also a resident of Agbassa community, is said to be critically lying in one of the hospitals in Airport road, Warri, receiving treatment.
Meanwhile, the suspect informed Nigerian Tribune that he came all the way from Airport road to disguise as a madman to rob people of their phones.
"I reside at Airport road. I entered the community in the early hours of Tuesday evening took off my clothes and pretended to be mad.
"I usually do this when I want to steal and after stealing, I'll dress up and act normal, again," Suspect Emmanuel, who was tied to a stake awaiting the arrival of police operatives, disclosed.
He also claimed he usually appeared in tattered clothes to deceive people and had already stolen three phones that night before meeting his waterloo while attacking Miss Avweruosuo to steal her phone, too.
Meanwhile, as of the time of filing the report, the case was yet to be officially handed over to the police for further investigation and prosecution.