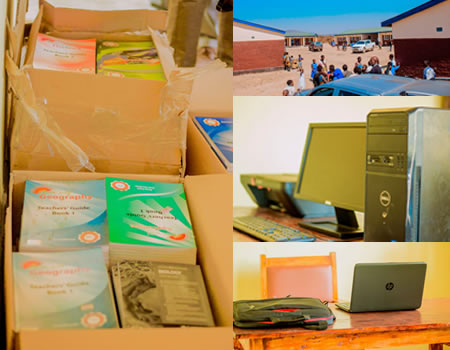 The Enlightened Christian Gathering (ECG) leader and founder, Prophet Shepherd Bushiri, has become a shining example for good works in Malawi after constructing and handing over a multi-million Kwacha High School to the government to help improve education standards in rural areas.
The school which is in the Northern part of Malawi, about 600 kilometres from the capital, Lilongwe, will help thousands of poverty-stricken pupils from surrounding areas of Hewe Village where Prophet Bushiri hid his calling to the prophetic.
According to Duncan Zgambo, CEO of Shepherd Bushiri Foundation (SBF) said the gesture is part of their foundation's plans to bring education to neglected places.
ALSO READ: ILO commends G7 prioritization of inequality
"You should be aware that this is just one of our main projects to make sure that education is accessible to remote places of African countries. We have been helping governments improve education by donating materials to existing schools, just that now we took a great step to actually build one," said Zgambo during the handover function of the school.
Prophet Bushiri is the first Malawian to construct and hand over the high school to the government on top of learning material donations to different schools across the Southern African countries.
The man of God has been enjoying his charity works since he rose to fame, among others spending billions of Kwacha's in food aid, health, and education.
In 2016, Bushiri fed over a million people when he distributed maize in all the three major regions in Malawi and he was recognised internationally for his humanitarian work which saved millions from hunger and starvation.
He was also instrumental in helping homeless people in Soweto, South Africa after the storm that affected Johannesburg in June. Shepherd Bushiri Foundation was formed to spearhead the man of God's charity works and uplift people's lives.