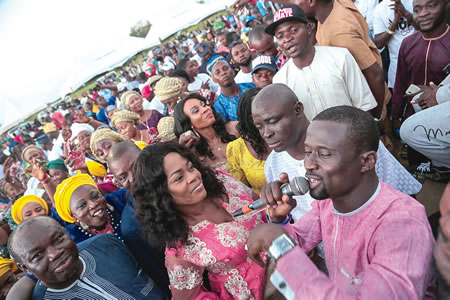 Fuji music star, Alhaji Sulaimon Alao Adekunle, popularly known as Malaika, was the cynosure of all eyes at the just-concluded Ajase Ipo Ojude Oba Day Festival in Kwara State.
Music buffs came out massively to watch the Golden Jubilee crooner, with his band dazzling on stage.
Despite a downpour that caused a slight delay, fans eventually trooped out to have fun at the festival.
His Royal Majesty, Olupo of Ajase Ipo, Oba Sikiru Woleola II saluted the music star, for his dexterity on stage and for entertaining his people at the event.
ALSO READ: EFCC raids Standard Chartered Bank's head office
The monarch added glamour to the event as he and his chiefs, as well as other dignitaries from all walks of life had a feel of the vibes of the Fuji act on stage.
Malaika dished out songs from Proper Music albums: Super Star, Original and Golden Jubilee respectively.