Our main thrust is to decapitate all terrorist factions ―Buratai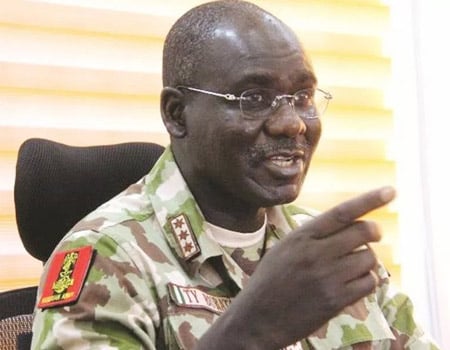 Chief of Army Staff, Lt.-Gen. Tukur Buratai, says the main thrust now of the military operations in the North-East is the decapitation of all the remaining terrorists' factions.
"With this feat achieved, the relevance of Shekau is no longer of any consequence," Buratai said.
In a statement issued on Friday in Abuja, by Brig.-Gen. Sani Usman, the Director of Army Public Relations, Buratai commend the Theatre Commander, Operations Lafiya Dole and troops for neutralising five top commanders of the Boko Haram terrorists.
He expressed satisfaction with the zeal and determination of troops to capture the Boko Haram terrorists' factional leader, Abubakar Shekau, dead or alive, in line with his directive which is yet to be achieved.
The army chief, on July 21, gave the Theatre Commander, Maj.-Gen. Ibrahim Attahiru, 40 days deadline to capture the terrorists' leader.
The deadline expired on Aug. 30.
He noted that the five key leaders of the insurgents recently eliminated by the troops "were the closest associates and right hand men of the terrorists' group leader – Shekau."
"Within the same period, 82 of the Boko Haram terrorists were eliminated.
"Therefore, the commander (of theatre command) was very close to achieving the directive.
"The theatre commander has asked for the extension of the deadline and it was granted.
"Given deadlines and extensions are strategic means of focusing troops' efforts in the theatre," Buratai said.
He urged the people of the North-East and indeed Nigerians to be more confident of the Nigerian troops and go about their normal activities.