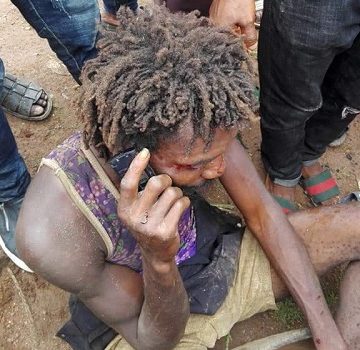 A suspected kidnapper identified as Dele, who disguised as a madman was arrested in Akure, the Ondo State capital, smashed and damaged his mobile phone, immediately he received an N1.5m alert on the phone after his arrest.
The suspect who was arrested by the men of the Nigeria Security and Civil Defence Corps(NSCDC) in Akure, around Isikan area, was found with a mobile phone in his pocket.
Speaking on the arrest of the young man, the Commandant of the NSCDC in the State, Mr Pedro Awili, said the suspect was arrested after days of surveillance by the men of the NSCDC.
According to him, the suspect identified as Dele has been pretending to be a madman for some weeks and was suspected to be a kidnapper.
He explained that: "Our QRS team on October 15 arrested One Dele who is pretending to be a madman at Isikan area of Akure with a phone in his pocket.
"When our men arrested him and checked the mobile phone found on him, after some few minutes he got an alert of N1.5million payment into his account.
"Immediately the alert entered he forcefully collected the mobile phone and smashed it on the floor, damaging the phone.
"We are going to repair the mobile phone to know and ascertain the person that sent the money to him and the persons who his working for,"he said.
Ajilo who said investigation is ongoing to establish the health status of the suspect saying the suspect was a suspected kidnapper.
He, however, called on members of the public to conscious of people and movement in their environment urging them not to hesitate to report such incident to security agents.
"We advise members of the public to work hand in hand with the security agencies by giving adequate, accurate and verified information that could help us carried out our mandates.
"People should also be conscious of what is happening in their environment and to know the kind of people they see especially madmen to know if true such a person is a madman," he said.