Lyta finally opens up: I'm depressed; I don't know what to do with my life!
Nigeria's fast-rising music star, Opeyemi Babatunde Rahim, popularly known as Lyta, has been in the news for the past two weeks over his unceremonious exit from Olamide's YBNL label. While the label has issued a statement wishing the young singer well in his future endeavour, the singer said no love is lost. In this interview with popular music download platform, Naijaloaded, Lyta speaks on what led to his exit, among other issues. SEGUN ADEBAYO, who monitored the exclusive interview, presents its excerpts.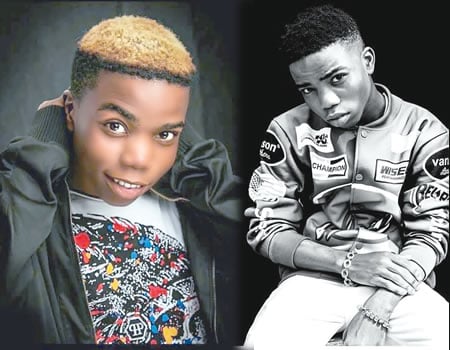 What exactly are the state of things between you and Yahoo Boy No Laptop (YBNL) now?
As of today, I don't have any deal with Olamide or YBNL. Olamide, as the YBNL boss saw me on the street and picked me up and he decided to help me. I don't know about other artistes on the label, but we never had any written contract when I joined. I am grateful to Olamide for what he has done for me. The label will always be part of my story. For me, at this point, no love lost.
So you never signed any deal with YBNL?
There was no deal. YBNL was a platform that helped my career and God bless Olamide.
What kind of benefit were you entitled since you never signed any deal with the label?
Yes, I was getting benefits because I was being paid for shows.
How much were you paid for shows?
It varies. Sometimes, I get N80,000 or N60,000 naira from the show. Sometimes I get N50,000 naira too. But when I dropped my songs, Time and Self-Made, I didn't get anything.
Olamide claimed that you left YBNL because someone wanted to sign you. Is this true?
Yes, a lot of people have shown interest in signing me. But, I never felt the need to go. I don't think it was necessary to leave YBNL at that time until my dad called me to inform me about a man that he said had been disturbing him because he wanted to sponsor my music. My father told me to give Olamide the contact's number, so they could talk but Olamide didn't accept the deal.
Did you ask Olamide why he turned down the deal for you?
I sent a message to Olamide and I told him that my dad wanted to talk to him. I didn't tell Olamide that someone wanted to sign me. Olamide told me that I should go and find out about the person and the deal he was bringing. So, I told my dad and he asked me to tell Olamide that somebody wanted to sponsor my music. So, I sent a message to Olamide and he said if that's what I wanted for myself, he wished me good luck. When I saw his message, I didn't know what to say; I just told him thank you sir.
How did you feel about his message?
I didn't even know what to say when I saw the message. I was wondering what he meant by he wished me good luck. I was confused and I don't know what to tell him.
So what have you been doing since you left YBNL?
I have not been doing anything for the past five months. My fans have been waiting for new music from me, but nothing is happening. Everybody has been asking me to drop new songs. Some even said I have just been busy changing my hairstyle. People don't know I am depressed and tired but I can't quit music now because the reason I am making music is for my mum.
Why are you making music for her?
My mum is blind and I have to take care of her. I am the only one that can do that for now. My dad can't do much right now and my brothers too are trying their best. It is even more depressing that people call me Lyta the superstar everywhere I go. Many people see me as a super star but I don't have anything to show for it right now.
Do you feel any regret leaving YBNL?
I never knew quitting YBNL would be a big deal. I thought we were all family in YBNL. I felt I could just walk up to Olamide and ask him to sponsor me. I think that's the best for me. Olamide is like my father because if not for him, I would not even be where I am today. He was so supportive that anything I told me, he always prayed for me and supported my career. I am very sad about this development. I am so sad.
But we learnt that you left because you were jealous of Fireboy, who is currently making waves?
I think my action was misunderstood. Fireboy and I have been together for years now and when he was signed by YBNL, we stayed together in the same house. We wore the same clothes, ate together and learnt a lot of things from each other. I respect Fireboy a lot because we are like brothers and I don't have any reason to hate him or anybody. My religion, Islam says jealous is hate. My prayer is that we should all meet at the top.
Are you aware Olamide said there is a calendar/release plan for every artiste on the label?
I am not aware of any calendar on YBNL. Olamide never told me about release plans or schedule for artistes on the label. This is 2019 and the year is fast running out, and I am yet to release a song this year. Even last year, it was like one was playing with his career. Many people kept telling me I had no business in YBNL because I was not progressing with my career. I had recorded many songs that I am yet to release, so I don't know anything about calendar in YBNL. The industry is funny that if you don't drop songs back-to-back, people will forget you. Even the top artistes are hungry for more successes. They drop songs every day because they want to remain relevant. So, why would mine be different? I don't want people to think I am living larger than life because I dropped two songs that are very popular. I am hungry for success. I need to drop more songs, so that my fans will know I am still in the music business.
So what do you intend to do now?
I have a lot to do and I am working towards achieving my dreams. Right now, I am depressed because I don't even know what to do with my life. People complained about my hairstyle, but they don't know that I am just not happy with my life and I don't know what next to do. That was why I had to leave YBNL because I was not sure if the label had plans for me. I felt it was time for me to move on. I need to start making songs for my fans. I love and respect Olamide, but it was wise that I moved on.