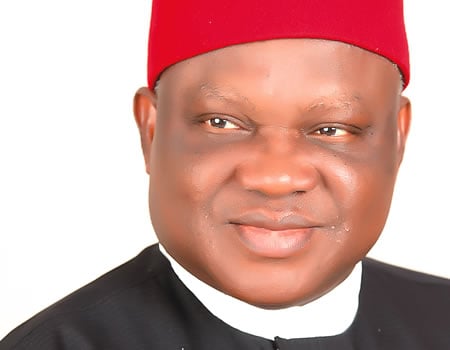 THE National chairman of the United Progressive Party (UPP), Chief Chekwas Okorie, has urged the people of Anambra State to vote massively for the party in the forthcoming governorship election in the state.
He described the election as political war, which is not fought with a gun but with the voter's card, asking the party faithful to be ready for the battle through the instrumentality of their cards.
Addressing a mammoth crowd yesterday in Uli, Ihiala local government at the flag off of the party campaign, Okorie said the party could not afford to lose the election, as anything short of winning the poll would be akin to losing another war.
He said the choice of Amorka as the venue for the event was informed by its historic significance, being the location where the aircraft that supplied relief materials for Biafrans landed.
"It was in Amorka that the Biafran warlord, Chief Dim Odumegwu Ojukwu took off to Ivory Coast in search for peace. The same plane has landed in Amorka and has brought peace to Anambra.
History is being made again as we stage this rally today to remember Amorka which has since been forgotten since the ar ended," he said.
Okorie who officially handed over the flag of the party to the governorship candidate, as well as his deputy, Marcel Okeke said, "Anambra demanded a young man, we present to you the young man, upright man, presidential material for the governor."
In his speech, the party flagbearer, Chief Osita Chidoka, urged President Muhammadu Buhari to retract his terrorism law on the Igbos, insisting that there is no terrorist in the entire South East.
He pledged to secure a new state for the southeast region to bridge the disparity he faces if elected governor of the state.
"My election as governor of Anambra State will start off with a single agenda; an agenda to secure a new state for the southeast region to bridge the disparity we face.
"We will immediately, upon inauguration, in line with S. 8 (1) of the 1999 constitution get our National Assembly members from Anambra State, our elected House of Assembly members, and local government chairmen to sign a request to the National Assembly asking for a referendum for the sixth Southeast state," he added.