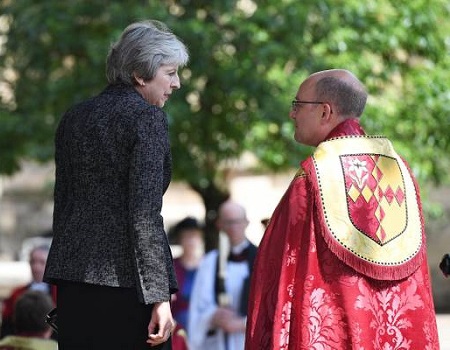 THERESA May and Sadiq Khan have taken their seats at Southwark Cathedral as they prepare to pay tribute to victims of last year's London Bridge terror attack.
The PM said Britain's resolve to "stand firm" against terrorism was stronger than ever on the anniversary of the attack.
Eight people were killed and almost 50 injured when three Islamic State group-inspired attackers ran down pedestrians on the bridge, then stabbed people at bars and restaurants in nearby Borough Market on a warm spring evening. The three attackers were shot dead by police within minutes.
The rampage came two weeks after a bombing at an Ariana Grande concert in Manchester Arena that killed 22 people.
Survivors, politicians and emergency workers were attending a service Sunday at Southwark Cathedral near London Bridge.
The Dean of Southwark Cathedral Andrew Nunn read the names of those killed in the attack as he welcomed their families, friends, and others who were injured, along with dignitaries, to the service.
He said: "I hope it helps our healing. Whatever your hopes are, whatever your pain is, whatever has kept you awake at night, whatever anger, sorrow or guilt you are feeling: God is here for you.
"Love is stronger than hate, light is stronger than darkness and life is stronger than death. It was true a year ago. It is as true today."
Mr Khan followed the Dean with a reading from Psalm 77.
Met Police Commissioner Cressida Dick, also in attendance, said: The horrific attack on London Bridge and Borough Market will remain vivid in many of our minds.
"One year to the day since that tragic night many of us will reflect and remember in our own way.
"In the Met we remember those who were injured, all those who continue to come to terms with that night and the eight people tragically killed.
ALSO READ: 13 dead as family of suicide bombers attacks Indonesian churches
"Christine Archibald; Sebastien Belanger; Kirsty Boden; Ignacio Echeverria; James McMullan; Alexandre Pigeard; Xavier Thomas and Sara Zelenak – all deeply and sadly missed.
"That night was also characterised by the very best of our City. Acts of the most incredible bravery and of huge compassion."
The nation will hold a minute of silence at 4:30 p.m., and the words #LondonUnited will be projected onto the bridge, which connects London's business district with the lively south bank side of the River Thames.
Mrs May paid tribute to the bravery of first responders and others, including Ignacio Echeverria, a Spanish man who tackled the attackers with his skateboard and died in the attack.
She said the fact that seven of the eight victims came from outside Britain – from France, Spain, Australia and Canada – was "a reflection of our great cosmopolitan capital, whose energy and values brings together people from across the world, and a tragic reminder that the threat from terrorism transcends borders and impacts us all."
The London Bridge carnage was one of a string of attacks in Britain in 2017 involving Islamic or far-right extremists that killed 36 people in all.
Britain's official threat level from terrorism is "severe," the second-highest of five levels, meaning that an attack is highly likely.
The government said Sunday that "we expect the threat from Islamist terrorism to remain at its current, heightened level for at least the next two years, and that it may increase further."
It said the threat from extreme-right violence is growing.
Home Secretary Sajid Javid said Sunday that he plans to recruit 2,000 new security service officers to help combat the threat.