Life as a trombonist has been interesting —Trombonist Abbey
For Afolaranmi Abiodun Olaoluwa, popularly known as Trombonist Abbey, being a trombonist is unique as it hardly attracts influx of artistes to the brand of music. In this interview with SEYI SOKOYA, the brain behind the Afrocentric Rhythms Concert and the band administrator of Eko Brass Band, speaks about life, career and the misconception about being a trombonist. Excerpts: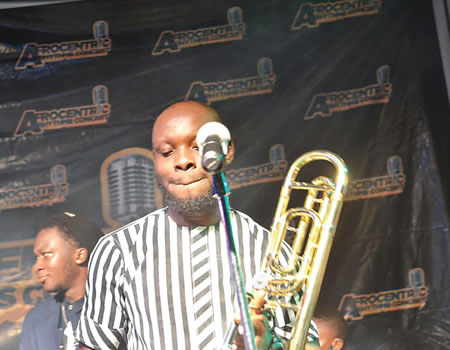 What have you been up to lately?
I have been making utmost effort through the help of the Almighty in promoting and projecting the vision of Afrocentric Rhythms Concert for sustainability and growth. However, we are grateful to God for the success we have achieved so far, but we are still expectant for more open doors in achieving our goal. We are not relenting and are confident that we will get there in due time.
Following the success story of Afrocentric Rhythms Concert, which has been rated among the events that promote arts and culture, could you let us know how you conceived the idea?
AR Concert started like a dream, precisely on August 20, 2017 at the mother venue of the concert, Freedom Park, Lagos Island. I got the idea and I shared it with my wife and I approached my boss, Mr Theo Lawson of Freedom Park, because he always gives support to any idea that is good, especially in arts and entertainment. We had the first edition successfully, thereafter, Freedom Park gave in more interest on AR Concert and today, we are still surviving. The success behind it is that our audience keeps growing and it gain more fans. In the success story of Afrocentric Rhythms Concert, I have to appreciate my wife, Bukola and my team: Victor, Lucia, Frank, Gbenga PR and Emmanuel for making Afrocentric Rhythms Concert a success and widely accepted.
What are major challenges in the industry?
It has been very challenging to survive with a new brand in the music industry, but for the vision behind it, I and my team have been able to keep the spirit high till we break even. Some of the challenges is finding it difficult to get brands to support the initiative, but we have been able to survive through the divine grace. This is an initiative created to foster how enriched culture and art, so, it is not a wasted effort to collectively contribute such initiatives, especially when it contributes to the growth of the industry.
Do you think this initiative is achieving its purpose?
Yes, the inspiration came as a result of promoting and projecting African live music and talented musicians. My aim wasn't to promote and project talented musicians only, but to revive old musicians that were once stars and no longer in existence. This vision is not only for talented Nigerian musicians, but for all African talented musicians.
Since you seem not to be performing what is termed commercial music, how do you make your music lucrative?
Commercial music is the music that makes hit from street to street globally. Making my music lucrative is to play good music and have right ways of promoting the music. My performance is on a regular basis now with my band. There's no month I don't have engagement.
What has been the most memorable moment in your musical career?
One of my memorable moments was when I was with Praiz, who beckoned on me to put up a band for him in 2015 and when I had the privileged to perform at the popular MTN Project Fame 2013.
What is your assessment of the industry?
Music industry is growing fast and more talents get discovered likewise. The only thing we need to do is to take some right directions at the right time in order to take the industry to a greater height.
For me, I don't condemn songs, because I believe that it is only good music and its originator that will stand the test of time, as well as be evergreen, while immoral music will go into extinction.
We hardly have people adopting this brand of music, why did you develop interest in it?
I do all genres of music due to the reason of my foundation musically. I believe in rhythms and I make good sounds out of it. It is true we hardly have popular trombonist in our society, but I work hard to make myself the first among the best professional trombonist in Nigeria through the help of God. I always feel good and proud of being a trombonist and it takes nothing than working consistently to be the toast of many in the industry.
As one of the conventional musicians in the country, do you see artistes of the category as being underrated in the industry?
Obviously, this category don't have the supports needed as other Afro pop musicians benefit a lot in the industry, this is because of the settings system and we only strive and make all efforts to get the stage we are or we are aiming at. I am hopeful that we get the needed support to foster our specialisation in the industry. It is time we realised the need to embrace our culture; Africanness through musical works. This is the only way to restore our society and force our leaders to retrace their steps to the right track. Music is not just about entertaining, but it redirects and impact lives positively. This can only be achieved through my kind of music because it is a combination of inspiring rhythms and inculcate good values.
There is a claim that trombonist often suffer critical health issues later in life. Do you have this fear?
It is not true. I was actually told same thing when I was about to start learning the musical instrument, but I had to prove those people wrong that there is nothing as such.
Did you ever have the premonition that you will end up to become a musician?
Music has always been my passion from my early age. In listening to music day and night in the early 90s and somehow I discovered myself on local drums (agbaa mole) in my parents church, Christ Apostolic Church. This discovery boosted my passion more for music and musical instruments. I became a professional on the local drums at that my early age. I never knew what trombone was then until I was introduced to it by my first teacher, a music maestro, Samuel Toyin Ajose and this brought about the good story today.
Though I am a graduate of Management Information Systems (B. Sc), USAM, Port Novo, Benin Republic, I also obtained music certificates from MUSON and Peter King College of Music, Badagry, Lagos and many other professional certificates. I'm the convener and executive producer of Afrocentric Rhythms Concert and the CEO of the Closette Media and Communications Ltd. I am also the band originator of Abinibi Groovy and band administrator of Eko Brass Band. My life as a trombonist has been interesting. Though life is two sides of a coin; the good and the bad, anyway whatever life throws at me, even at the verge of excelling in my career, I will always remain humble and never to give up on life and my passion. One of the things that made me unique in the industry is the ability to make good music and the level of training and experience I have garnered and will continue to seek for.