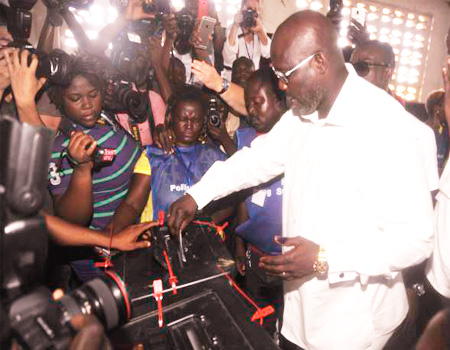 Liberians voted in a runoff election Tuesday to choose the West African country's next president.
Former soccer star George Weah and Vice President Joseph Boakai are competing to replace President Ellen Johnson Sirleaf, who is stepping down after two terms, the maximum allowed under Liberia's constitution.
Boakai and Weah were the top vote-getters in the October 10 election, with Weah getting 38.4 percent and Boakai coming in second with 28.8 percent. Since neither received a majority, a runoff election was triggered, but court challenges delayed the vote, which was originally set for November 7.
Weah's running mate is Senator Jewel Howard-Taylor. She is the ex-wife of former rebel leader and president Charles Taylor, who sparked Liberia's civil war in 1989 and is serving a 50-year prison sentence in Britain for his role in atrocities in Sierra Leone.
Taylor still has supporters in Liberia, and his ex-wife is credited with helping Weah win key counties in the first round of voting.
Both Weah and Boakai have built their campaigns around job creation, education and building infrastructure.
Critics of Boakai, 73, have accused him of doing little as Johnson Sirleaf's vice president. Critics of Weah, 51, said he has almost no real political or governing experience.
Pollsters say Tuesday's election is too close to call, and official results aren't expected for a few days.
If all goes smoothly, Liberia will see its first peaceful and democratic transfer of power in more than 70 years.