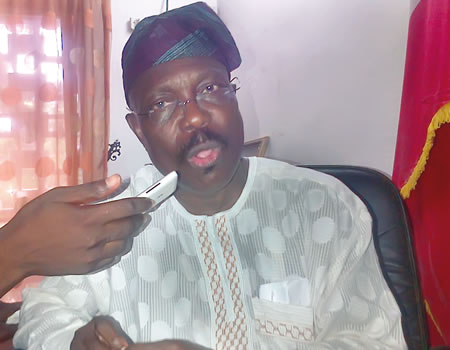 As leadership crisis continues to rock Peoples Democratic Party (PDP), a faction of the party in Lagos State led by Hon. Moshood Salvador has directed chairmanship and councillorship candidates on its platform wishing to contest the forthcoming local government poll to do so instead on Labour Party (LP).
Salvador gave this directive on Wednesday at a press conference he addressed at his private home, Salvador Tower in Surulere, insisting that the arrangement was a "Pre-electoral Political Alliance with Labour Party" as PDP continues to exist any day and any time.
But in his reaction, the State Chairman of PDP, Otunba Segun Adewale, condemned the directive by  Salvador, describing Salvador's action as a failed attempt to undermine the PDP at the polls.
Adewale gave this reaction on Tuesday in a statement he personally issued, describing Salvador's action as a failed attempt to undermine the PDP at the polls.
This was just as he disclosed, in a statement made available to newsmen, that he had constituted a disciplinary committee to be chaired by Alhaji Wahab Owokoniran to investigate issues surrounding such behaviour, adding that the disciplinary committee was saddled with the responsibility of investigating all allegations with a view to identify those responsible and recommend appropriate punishments.
Speaking on reasons for the directive, Salvador, who heads the Ahmed Makarfi group of PDP, said, "We are PDP any day and anytime. We only have a pre-electoral political alliance with Labour Party to contest this coming local government election only."
According to him, the alliance being sought between PDP and LP was not the first of its kind as similar arrangement had taken place in the country in past and even much recently.
"This is not the first time of this type of alliance in Nigeria. The first experience of pre-electoral alliance in Nigeria was in 1999 when defunct All People Party (APP) and Alliance for Democracy (AD) formed an alliance to contest Presidential Election, with Chief Olu Falae of AD as Presidential candidate and Umaru Shinkafi of APP as the Vice Presidential candidate.
"Again in 2003, Alliance for Democracy (AD) of Lagos State, had an alliance with PAC under the leadership of Alhaji Olawale Dawodu.
"Also recently in 2017, Delta State, PDP had an alliance with Accord Party to defeat APC in their last election," he said.
He, therefore, appealed to all lovers and sympathisers of PDP in Lagos State to cast their vote for "Labour PDP alliance" by voting Labour Party, maintaining that it was an alliance as such candidates of PDP for chairmanship and councillorship positions had not decamped to any party.
"We never declared for another party and we never dumped our dear PDP. We are the PDP strength in Lagos State. In this pre-electoral alliance, we have 342 councillorship candidates and 52 chairmanship candidates.
"As from this very moment, I now declare that all our candidates must start pasting their posters, commence the house to house campaigns and educate the electorate on the circumstance of our using Labour Party for this council election only.
"The LGA chairmen, the ward chairmen and all our LCDA chairmen must start work tirelessly to educate the public on our circumstance of this council election and work closely with all their Labour Party counterparts and candidates in their various local governments," Salvador said.
The PDP chieftain, who contended that the party needed an experienced, knowledgeable, articulate and gentlemanly leadership at all levels to surmount the leadership problem rocking it, until the Supreme Court would come out with its verdict to end the crisis, however, lamented that the Alimodu Sheriff group of Lagos PDP, with the special interest of Senator Buruji Kashamu, also took advantage of the crisis.
Salvador said they did this by conniving with the ruling All Progressives Congress (APC) to reduce the chances of PDP's success in the coming local government poll through orchestration of several violent actions to disturb the smooth running of administration led by him in the state.
"But with Salvador's leadership quality and experience, he refused to be distracted and their plans failed.
"You may recall the press statement of one Mr Segun Adewale in May 2017, promising to accept the leadership of Salvador and his readiness to be vice chairman to Salvador.
"This Sheriff group broke the promise immediately it was made. They knew that they are less than 10 per cent of the PDP membership in Lagos State. This shows why they only believe in violence for every move made and they lack quality and reliable leadership with no visible elders and leaders.
"Makarfi group of Lagos PDP led by Moshood Salvador has over 90 per cent of the real membership of PDP in Lagos State. We are, therefore, the real authentic PDP because politics is all about the people. Our main objective is to serve the nation; our objective is to serve our members; our objective is to actualise the dreams of our teaming members by creating opportunities for them to contest election and win. This is how they can be in government to serve their community," Salvador said.
However, the PDP chairman, Otunba Adewale, in the state countered that it was Salvador's group that did not allow the working relationship to work, saying he had offered those local government aspirants loyal to Salvador some reserved nomination slots at the coming poll, but they refused.
Speaking on the chances of PDP in the coming poll exercise, Salvador said the party was sure of victory because the people of Lagos were very ready to vote PDP into power at the grassroots due to the failure of APC to impact lives at that level.
"The people of Lagos are very ready to vote PDP into power at this local government election, because APC did nothing to the people at the local government level.
"All local government roads are bad, no community health care centres anymore, no  sanitation/environmental service again and so on.
"This is why we are determined and ready to make the positive change in all the local government areas and the local council development areas. We also pledge that we will not disappoint the public when voted into power," Salvador assured.