LASIEC boss hands over certificates to 57 chairmen, 376 councillors-elect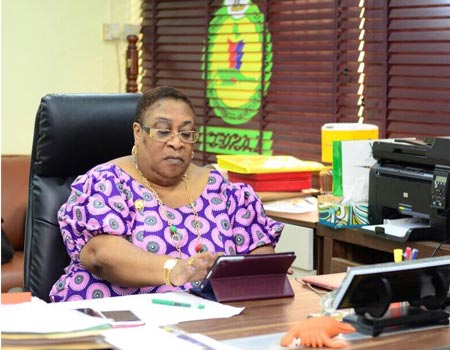 Chairman, Lagos State Independent Electoral Commission (LASIEC), Justice Ayotunde Phillips, on Monday handed over certificates of return to all the chairmen and councillors-elect that emerged victorious at the Local Government poll conducted last Saturday, charging them to ensure that they deliver the dividends of democracy they promised the people during campaign.
In all, 57 chairmen-elect and 376 councillors-elect obtained their certificates of return at an event which took place at the commission's headquarters at Sabo, Yaba.
Phillips gave the charge, while presenting the document, even as she expressed appreciation to God that the whole electioneering culminating in the Saturday exercise went peacefully without any single death recorded.
She also lauded Lagosians, all the political parties and their candidates for obeying the rules and ensuring that no rancour or disruption was recorded.
Phillips, who recalled efforts made by the commission to ensure a hitch-free exercise, said now was the time for those that got elected based on what they promised during the electioneering to deliver on their mandate, by ensuring that those who voted them enjoy the dividends of democracy.
"Now that you have been elected into office, based on the promises you made to the people, you should now go and ensure that the people enjoy the dividends of democracy you promised them," she said.
Speaking with newsmen shortly after he received his certificate of return, Chairman-elect, Ifako- Ijaye Local Council Development Area (LCDA), Hon Oloruntoba Oke, assured that he was poised to pursue his 6-point Agenda to a logical conclusion in order to bring about positive transformation in the council area.
Oloruntoba, who was voted for second term, said the Agenda covered catering to the teeming youths and the aged, pointing out that under his administration youths would be engaged and the unemployed would be trained to become self- employed.
The chairman-elect for Ikotun LCDA, Hon. Adesina Williams, said her priority would be on education, health as well as infrastructure, promising to ensure completion of all uncompleted projects in the local government.
Also speaking with newsmen, Chairman-elect, Ajeromi- Ifelodun Local Government, Hon. Ayoola Fatai, said he would address the issue of bad roads, security and youth mobilisation in the council.