The Executive Chairman of Ogbomoso North Local Government Area of Oyo state and son of Chief Adebayo Alao-Akala, a former governor, 'LamijuAlao-Akala, has flagged off the construction of three road projects across the council area.
The projects include 471 x 7.3m Jesus House-Mahunrun Road; 210m x 6.5m Ademola Alata streets and 152m x 7.3m Nurudeen Mosque/Musalat Filling station Road, making the total length of roads to be constructed 833m.
The chairman during the flag off of the ceremony commended Governor Abiola Ajimobi for his effective leadership that has brought huge infrastructural development to the state which includes delivering latest model excavators to all the 33 local government areas in the state.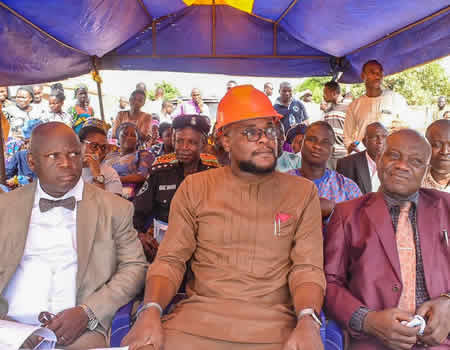 According to him, the roads were approved by Governor Abiola Ajimobi-led state government in line with the administration's transformation policies and programmes. He added that, "the giant strides of Governor Abiola Ajimobi-led administration in the area of infrastructural development and other critical deliverables are well known. What we are witnessing today is our own effort at complementing this quantum leap.
"Conscious of the significant role, which a good road network plays in enhancing rapid socio-economic growth and development, the three primary access roads in question are strategic in nature as they offer alternative routes to motorists during traffic congestion on our highways," he said.
The chairman noted that the road projects include construction of drainages to control flood water, which he said, will be completed in three months' time, adding that the projects are fully funded with 2018 excess crude funds and will be executed to meet up with the international standards.
ALSO READ: CAC registers 3 million business names as BIS terminates March 31st
"This excavator we are using for the constructions of the road projects were ordered by the Oyo State government in 2018, inaugurated by the governor last Friday and delivered to the council chairmen on the same day. The excavator will, to a greater extent, boost agricultural activities in Ogbomoso North LGA, helpful in our safety and rescue operations, as well as our urban renewal agenda.
"The distribution of the 33 excavators and approval of the constructions of over 100 road projects across the state are parts of the feat of Gov. Ajimobi who is passionate about the well being of the people of the state and also determined to sustain his administration's developmental strides until May 28 when his tenure would come to an end," he said.
He urged people of the council area to continue to support the government in order to continue to reap more dividends of democracy.
Hon. Lamiju Alao-Akala urged Senator Ajimobi not to be distracted in his service delivery and urged politicians in the state to embrace politics of development and peaceful coexistence. He noted that the efforts of the government at the state level would be complemented by his administration in the local government by bringing about physical and human developments.