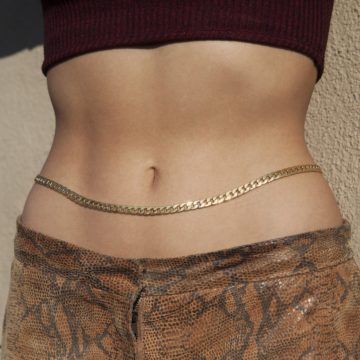 LAGOS residents express mixed views over the wearing of waist chains, ankletsSome residents of Lagos on Wednesday expressed divergent views on the current trend in which some women wear waist chains, beads and anklets as a fashion statement.
Some of those who spoke to the News Agency of Nigeria (NAN) lauded the development saying they usually complemented the beauty of women.
"These ornaments provide confidence and beauty, especially, in a world that dictates what a modern or beautiful woman needs to look like."
Others said that women wearing anklets could be likened to women of easy virtues or sex workers.
Some said that since women wearing waist chains or beads normally covered them with their clothes, they did not see the purpose of it.
They said that access to the waist beads was always restricted to only the person who shared private intimacy with the woman could be privileged to see it.
NAN reports that waist chains or belly chains are a type of body jewellery made of silver or gold materials and often worn around the waists mainly by women.
This could be traced to 4,000 years or more; originating from India where the people were in the habit of wear waist chains as ornaments for religious ceremonies, accessories and to show affluence.
The African variety appeared to have their origins among the Yoruba and Hausa ethnic groups of Nigeria who locally called such variants "Ileke idi'' in Yoruba or "Jigida'' in Hausa.
They serve as symbols of sensuality, fertility, a symbol of female maturity, beautification, protection, birth control and weight loss among those who wear them.
The beauty of the bead used to adorn the waist may also be seen in necklaces, bracelets, hair decorations and anklets.
Mrs Itunu Alarape, who sells jewels at Idumota Market on Lagos Island, told NAN that she used to record more sales from ankle chains than waist chains.
She said that old women buy the very expensive ones made of gold while young adults buy the less expensive ones made of silver.
"Most times, the adults ask for the waist beads but the new styles come in gold and silver chains.
"I know a woman, popularly called Mama B, who makes customised waist beads for women by taking the measurement of her clients as well as their preferred bead colours,''
Alarape added that some of her clients that did not want to be seen in the market would invite Mama B to their homes.
"I sometimes take my customers to her if they insist on buying the beaded ones,'' Alarape said.
She, however, said that she neither wears waist chain nor ankle chain because her husband condemned them as being indecent.
"He has never stopped me from selling them. I also sell toe rings and nose rings,'' Alarape said.
Mr Richard Okoro, a shoe seller at Mushin Market said, "I have never really had anything against women who wear it.
"But the day I saw my younger sister wearing an anklet, I was all shades of angry. ''
Mr Idowu Olushola, a clearing agent, said most women who wear waist chains or beads look flashy and very attractive.
"I think I prefer the waist chain to the anklets on women.
"For me, I see a lot of sex workers wearing the ankle chains,''Olushola said.
Mrs Emelda Osazie, an entrepreneur, said she had always adorned her waist with the silver waist chain from her school days.
"I knew then that my parents would never approve my wearing of it, but I was doing it secretly during school hours.
"I would remove it when I was going home from school.
"I still wear it now as a married woman with children. And as a matter of fact, I have just got a newly designed set,'' she said.
Osazie, however, said that she abhorred the ankle chain. "My waist chain is hidden from the public and I love it that way,''Osazie said.
Ebele Peters, a medical doctor, said he would never go close to women that wear either.
He said regardless of today's fashion fad, most people did not see women who wear waist chain or anklets as being modest and responsible.
"Personally, I don't like it and I have never secretly wished to have a fling with such women.
"It does not sit well with me,'' Peters said.
Mr James Onalaja, a fashion designer, told NAN that the first thing that comes to his mind when he sees a woman with ankle chain is "Olosho".
"Olosho'' is a cunning standard prostitute
He said that if the woman was not trying to show–off with the waist chain, I think that would be acceptable to me.
He said that his girlfriend used to wear it, but she stopped it after she was delivered of her baby.
"I must say that it is very hard to take your eyes off a woman who shows off her waist beads and walks seductively before you.
"The waist chain was one of the things that attracted me to my girlfriend.
"We have been together for about two years now and I have no regrets," Onalaja said.
Mrs Folashade Deru, a court official, said that only uncultured children would wear either waist or ankle chains.
She said that no man would ever take such women seriously, as they would be perceived as being wayward and indecent.
"I will curse any of my female children I see wearing either the waist or ankle chain," Deru said.
Mr Timothy Fakunle, a pastor, said that the Book of Isaiah in the Holy Bible condemned the wearing of anklets.
"In the Book of Isaiah, Prophet Isaiah said that God was not happy with the daughters of Zion who wore them.
"I feel most of the motivations behind wearing anklet do not glorify God, " he said.
Fakunle added that it would be wrong and a misplaced priority if the wearing of anklet was to satisfy the worship of a false god or for occult reasons.
Ms Adetutu Oshadipe, a student, told NAN that she used to wear everything and anything that would add to her beauty as a woman.
She said that she was fond of wearing a very expensive gold anklet on her left leg whenever she was going to a beach party.
ALSO READ: Scientists validate plants that repel snakes
"I have lots of anklets. I am completely obsessed with waist chains because they make me feel sexy.
"I pierced my nose when I was in my first year in the university; and since then, I have been looking for other jewellery that will add to my beauty.
"I don't see what is wrong with a woman who wants to look beautiful
"These ornaments provide confidence and beauty, especially, in a world that dictates what a modern or beautiful woman needs to look like.
"I know some older women sometimes look at me in a sort of way, but it will never change who I am.
"Although, I do not show off my waist chain, but I confidently wear my anklets," Oshadipe said.
Ms Toni Smith, unemployed, said she had never thought anything was wrong with wearing anklets and waist chains.
"I wear waist beads but I do not go about showing it to the whole world.''
"For me, it is like an undergarment that should be hidden. Only my boyfriend gets to see it.
Tension in Osun as Aregbesola inaugurates N1.6bn road project
"It is a beautiful ornament and I have been using it to check my weight," Smith said.
Mr Michael Atego, a civil servant, said he had a girlfriend years back who he was head over hills for.
He said she was always wearing the locally-made waist beads and whenever they were involved intimately, the experience was always extraordinary.
"When we parted ways, I thought it was the end of my life.
" I was, however, educated by another female friend years after that my former girlfriend might have probably laced her "ileke idi''.
"These days when I see any woman revealing waist chain, I try not to look," Atego said.
---
---