The reality is as crushing as scary. The new fad among teenagers in Lagos is that they take to gambling at a tender age. The situation compels SHOLA ADEKOLA, AKIN ADEWAKUN, LEKAN OLABULO, Ayomide Owonibi Odekanyin, NAZA OKOLI and NEWTON RAY-UKWUOMA to do an indepth story to save this younger generation almost irretrievably lost to the new craze in Lagos; gambling.
Francis, (surname witheld) a 15-year-old Senior Secondary School (SSS2) student of a government secondary school at Gowon Estate in Egbeda, Akowonjo should be any mother's hope. But he is now a complete nightmare to a distraught mother who had no choice than tell her story for the world to hear, learn and possibly help her. Her "future" is gradually being ruined as the boy who should take care of her at her twilight, has been taken over by a new craze in Lagos; underage gambling. Francis's mum (names withheld) can no longer keep mum or turn a blind eye as the social menace sucks in kids like Francis and gradually seduces them to addiction point.
Everyone agrees that times change. In fact, change is considered the only permanent thing in life. But nearly everyone desires a change for the better. While the unfolding generational change is now almost acceptable to all, there are societal issues like gambling, changing with time that should worry homes and families. While it is likely a national problem, it is almost of epidemic proportion in Lagos.
There was a time that adults hid to gamble in whatever form. Then, it was a thing of shame for such gamblers and even their families, to indulge in what was then considered as pastime of low-lives.
Gradually, the stigma wore off a bit and it became more acceptable for adults, even when such people are still more of societal cast-off.
But the changing times never admitted kids going into it, though on rare occasions such do happen. But gone are those days of social stigma. Nearly every street in Lagos houses betting and gambling corners and nearly all have kids, including those in primary schools, as "customers."
When adults were mainly involved, the attractions seemed different for the new generation of gamblers.
In the past, people who indulged in the game of gambling were generally viewed as dangerous and looked down upon because of the negative status associated with it, but the rule of the game has now changed with many under-aged children whose ages range between nine and fifteen years taking over the game.
Confirming the very unusual development, an operator of a pool outfit, whose office is located on Raji Razak Street, Oke Odo in Alimosho Local Government Area of the state, admitted to Saturday Tribune that it was not an unusual spectacle seeing teenagers coming in for pool betting.
"While one, as an adult, would naturally frown at this; since it is supposed to be a game for the adolescents, but what do you do in a situation where such juvenile is accompanied by an adult, who insists the under-aged has got the Midas touch that would deliver to him the lucky number?" argued the operator, who craved for anonymity.
Curiously, Saturday Tribune gathered that the general belief among some of these pool stakers is that teenagers are always luckier, when it comes to pool betting or lottery, because of their innocence and some degree of purity they still possess.
"That is why you will see some of these adults come in here and leave the lottery or staking aspect to those teenagers, while they just provide the funds," he stated.
Interestingly, it seems to be working for some people. In a chat with the correspondent, Ismail, a regular face and a patron of one of the shops, who uses his under-age brother for such purpose does not see anything wrong in that, despite the fact that the law of the land frowns on it.
According to him, some of the 'juicy' packages he had won in the past
in pool betting, were achieved through his younger brother.
"For me, I don't see anything wrong in this. It is not in any way a criminal activity, so why the fuzz? Moreover, he and the other junior ones, also benefit from whatever I win from this," argued this 23-year-old vulcanizer.
Raphael, who used to be a frequent face in almost all the pool betting shops in Oke Odo before turning a new leaf, explained that those who are neck-deep in pool betting adopt any strategy, including engaging teenagers or even asking the mentally-derailed for lucky numbers.
"So it is not unusual seeing them engage young boys and girls to play some of these lottery games on their behalf. If they can ask mad men for lucky numbers, tell me, what would they not do to win?" Raphael argued.
We explore police, govt negligence -operators
Many of the operators of such centres are aware of what the law says about underage gambling but they have no power to enforce the law. They have laid the blame on the doorsteps of the government and the security agents who are supposed to enforce what the law says about the centers encouraging child gambling. Some of the operators said since they venture into such business, no law enforcement agency had come to challenge them on how they operate even when the presence of teen gamblers are obvious.
Conspicuously displayed in most of the sports betting shoos were warning signs ,which stipulate that it is not meant for those who are under the age of eighteen but you have many of them between the ages of nine and sixteen .
Some of the operators of these betting shops who spoke with the Saturday Tribune,stated that they were aware of the warning but pointed out that it was not their responsibility to prosecute the law. They claimed that it was the duty of the security agents to implement the law
"Initially, when we started, we were cautious of not allowing children and other underage youths to come into our shops but,when we discovered that the police and other security agents were not doing anything about it,gradually, we allowed them to be playing" a shopowner,who simply identified himself as Cosmos said.
The betting shop operator also admitted that" over 90 per cent of them stake beyond their means.At times, you wonder where they get the money from."
Role of Lagos State government
Through the comments of various operators engaged by Saturday Tribune, it is obvious that there are laws forbidding child gambling but majority of them have indicted the government and the law enforcement agents for failing to discourage child gambling in Lagos State. Many parents are calling on the relevant government agencies to urgently wake up from their slumber and come up with an effective policy that will discourage child gambling in Lagos State.
While it is generally believed that there is an urgent need for government to review the activities of the betting centres, parents have called for the appropriate licensing of the operators of such centres for the purpose of regulating their activities while any one found wanting should have his license revoked.
According to Mrs Tayo Omole, a Deaconess at one of the RCCG parishes in Satellite, the high rate of involvement of under-age children in gambling around Lagos these days should worry not only government but even parents. "The active involvement of teenagers in the game is a sign of how moral values have degenerated in the society" she said. To her, failure to act fast on this social menace may be an invitation to a more endangered Lagos as these child gamblers if not urgently rehabilitated, may end up becoming more dangerous.
For Ustaz Semiu, a child gambler is a disaster waiting to happen as from experience, this group of children as they get more addicted to the game, end up becoming full blown criminals as they tend to explore other dangerous means of making quick money like going into armed robbery and other societal vices. Semiu did not even spare parents who he said have neglected their parental roles to chase after unnecessary things of this world. He concluded by saying a city like Lagos needs vibrant youths who are well disciplined and God-fearing and not a crop of gamblers who will end up giving not only their parents but the entire society like Lagos sleepless nights.
Also speaking on the issue of teen gambling, a legal practitioner, Barrister Olamide Edun pointed out that as there are rules preventing minors from taking alcohol, the same also applies to gambling.
"It is rather unfortunate that we live in a society where some things are taken for granted.
"For a young boy or girl to engage in the act of gambling speaks about the kind of society we find ourselves.
"These under-age children that engage in these kind of practice can only be called delinquents, and I believe that there is a designated home for them, should they run into trouble in the bid to fuel their gambling appetite.
"I also believe that stringent laws should be put in place to prevent these young children from engaging in the act of gambling," he said.
The Public Relations Officer of the Lagos State Ministry of Youth and Social Development, Mrs. Kemi Ikotun-Adekusibe has said that the ministry will tackle the development with the needed guidance of the law.
Ikotun-Adekusibe, who acknowledged that the ministry did not know of the practice, told Saturday Tribune that,"The ministry will investigate the matter in accordance with the law of Lagos State Child Act Law and we will make our report known to the general public."
What is gambling?
Gambling involves risking something of value on an uncertain event in hope of winning something of greater value. Most of the teenager gamblers in Lagos, according to investigations, go into the game under the guise of predicting matches for the purpose of making money if such predictions come to pass.
It is for this reason that many under-aged children are seen frequenting areas, with shops featuring sports, fantasy leagues and world series of poker tournaments on television stations.
There are more than 3000 online gambling websites worldwide, including casinos and sites for betting on sport and racing.
It has been gathered that teenagers can also gamble without money on phone and Facebook apps. And more than 100 video games rated as suitable for children have gambling themes and content.
How it works.
Common forms of gambling in Lagos are lotteries and scratch-off tickets, where bettors risk a specified amount for the chance to win millions, throwing of dice and betting on football games. But the four major games that attract teen gambling are: Football, virtual soccer, Colour Colour and Horserace popularly known as Aka four. Apart from the football betting, other games are instant. "The under-aged prefer those instant games . They get their money instantly and go to spend it," a gambling arena operator disclosed.
Off-guard parents
Due to the numerous ways through which a child can get into and be addicted to gambling, parents are being caught off-guard like Francis's mother. Her experience shows that parents who might think it's too early to suspect that a child of ten or fifteen years is into gambling might be making the greatest mistake of their lives as some children do start gambling as young as nine years or better still most of them could have gambled by the age of 15.
Most of these under-age children, oblivious of the harsh truth that they are already active in the game of gambling are seen moving from playing these games to more serious types of gambling in later adolescence.
The game begins after all players place their bets. Wheels spin, cards are dealt and numbers are called. With few exceptions, no additional bets are allowed once the game begins. After each game, the participants settle up. Winnings depend on the type of game and the amount of the wager. Players can never lose more than they bet, and most card games return bets to players when they match the dealer's hand.
Lagos epidemic
Though the game of gambling is common across Nigeria, the rate at which under-age children are deeply involved in Lagos, has left many tongues-tied. These child-gamblers are being aided by game centres like Bet9aija, NairaBet, PS2 Centers and other centers carrying out similar roles where the underage children resume into the act after school hours. They are so addicted to the game that many don't even mind wearing their school uniforms to the centres to either predict or bet on football matches or their targets. Many of the betting centres are claiming they engage in the business to entertain and make money, but appearing to be destroying the future of the younger generations who having become addicted, graduate to other criminal activities such as full scale gambling and stealing to make them remain in the business.
Many have attributed the rise in the involvement of under-age gamblers in Lagos to different reasons.
For Mrs ope Okusanya, a civil servant in Lagos, the increase in the number of child gamblers in Lagos is a sign of near collapse in family values often associated with a big city like Lagos where parents hardly have time for their children upbringing as they devote much of their attention to making money.
Okusanya blamed the involvement of kids in gambling on the decline in family values and on the metropolitan nature of Lagos where all manner of children from different backgrounds meet.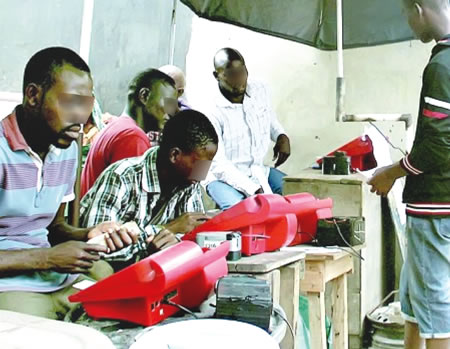 In his own contribution, Mr Ade Ajileye, a company driver who resides at Bammeke, Shasha, in Lagos,the internet and other technologies also expose children to gambling. He however, called for the limitation of children's access to online gambling websites saying: "You can also keep your computers in the living room or family areas of your house, rather than in bedrooms, and have a family rule about not having phones and tablets in bedrooms at night and you can block the gambling sites on your digital devices."
To many others who spoke to Saturday Tribune, many of the affected underage gamblers must have either picked the attitude from their parents or through bad relationships. Some even identified those child gamblers as those having family issues like broken homes or those trying to run away from boredom hence; taking to gambling as a solace.
Confessions of child gamblers
Here is Francis's story. He acknowledged becoming a thorn in the flesh of his parents due to his gambling addiction.
Francis in his confessional statement to Saturday Tribune, disclosed that he engages in the act as a way of entertaining himself after school hours.
Asked how he raises money to play the game at his tender age, he confessed to have formed the habit of using his feeding and transport money to school to play the game and subsequently trek to school.
On a daily basis, Francis confessed that he spends between N50 and N500 to play the game hoping to make profit in return, a dream that he is yet to realize.
According to the mother of Francis who has become distressed by the attitude of her son, she lamented that her son had become addicted to the game that he now steals money from home to gamble.
She even cited how the little boy removed her memory card in her phone to bet during one of such escapades. When asked why she failed to prevent Francis from the illegal act, she said she never thought a child of his age could involve himself in the act until she started observing that apart from her money that certain items including phone and jewelries started disappearing from house. She set a trap and caught him.
Like Francis, Saturday Tribune also came across another child gambler by the name Kola, who is under ten years and still in primary five but already in the business of gambling.
Though, the little boy did not realise he was already in the game of gambling but from investigation, the little boy at any given opportunity disappears to the various game centers around Shasha to play games with any amount of money that comes his way.
For Kola with N20 or N50 he is allowed to play for between ten and twenty minutes. Ask where he gets the money, Kola confessed that such money comes from the tokens he receives from people he runs errands for.
Game centres aiding child gamblers
Nowadays, there is hardly no street in Lagos where two or three betting centres are not be found even as the owners smile to their banks daily because of the high patronage they enjoy from their clients including the underage gamblers. Many of the gambling centres where these child gamblers carry out this dangerous acts have been accused of encouraging these children for the sake of the profit they generate from them without considering the subsequent negative effects it will have on them and the society at large.
Some of the child gamblers in the cause of engaging in this act run into the arms of questionable people who see them as a veritable tools to be used to perpetrate criminal activities.
Among the five boys seen in one of the betting shops along Shyllon road, Ilupeju, Michael was elected to play the first game for a rookie (the reporter). He was a boy of about fifteen years and in the midst of his age mates and friends.
"I will play Over for you," he said before launching into details. "You can play any amount. With N200 you can win N100,000, depending on the points you get. Number one is over one. Number five is go-go (2:1). Number eight is over one…".
Michael seemed well-learned in the game. Once in a while, the Yoruba version of his title "Magic Hand of the Game" would erupt from one of his followers. But he didn't seem to acknowledge it.
The betting shop wasn't a big place. Unlike other imposing betting shops, there were no giant TVs showing colourful football matches of foreign clubs. It had only one TV and then a virtual TV screen.
Michael retrieved N200 from the newcomer and motioned him towards the virtual TV screen in a corner of the betting shop. As he stretched the note to the waiting cashier, who was in his early twenties, Michael produced five winning numbers. What he didn't know was that luck had closed for the day. It was already 8.30 pm.
"You have to lose. If you don't lose you cannot win. That is how betting is," Michael said as he seemed to welcome the reporter to the world of teenage betting.
In Illupeju, along Shyllon road, betting shops, like any other road, must be 100 meters apart, measurement that is done by counting 50 buildings. This law takes care of rivalry and is referred to as the golden rule of betting. Most of the outlets where young people patronise are usually small and sandwiched in-between residential building.
A man, who runs a barbing shop beside the betting shop, told Saturday Tribune how most of the betting shops are being overtaken by young boys.
"A lot of them are doing it. You will always see them flocking around betting shops from morning till night. Most of them win big money. Some of them have spent everything they have on it. The thing with it is that the more you win, the more likely you are to lose it playing".
When asked what he does with the money he wins, Michael said, "I spend it on anything I like. I take my girl out when I win big money and when I don't win big money I spend the money buying things I like. I can give you another game."
Another N200 was given and in two minutes Michael returned with N5000.
According to Mrs Priscilla, a teacher in a private secondary school within Gowon Estate, she mentioned a particular betting center close to her school which she said was notorious for aiding child gambling.
Lamenting the increase in child gambling around such centres in Lagos, Priscilla also blamed parents, particularly some mothers, who encourage their under-age children to engage in gambling as a way of surviving the current economic hardship.
She cited the case of a student of the school who engaged in gambling and won N40,000 for which his mother commended him rather than rebuke him. Failure of the mother to rebuke him encouraged the boy to continue until he graduated into stealing other students' phones to raise money to continue in the act. The little boy ran into problem when he was caught for stealing which led to his expulsion from the school.
Close to the busy Ikotun Market, only a few meters away from the Synagogue Church, there are a cluster of betting centres, extending as far as Ile-Iwe Bus Stop at Egbe. When Saturday Tribune visited two of the centres in the morning, on Tuesday, many young men and a few women were seen loitering. There were several bars around, too, and some of the young men were seen settling down gradually.
One of the centre managers who identified himself as "Billy" lives behind the building, an expansive hall which also serves as a "viewing centre" for matches. Even as early as 8 a.m., the centre was already open.
"No, we do not admit people under the age of 18," Billy said. "The rules for all the games here clearly state that it is for 18 years and above." Asked however if his customers were required to show any proof of age before they were admitted, Billy said, "No. But we know most of our customers. We know who they are and where they live. They are our neighbours.
"I'm not saying that it's impossible. Someone may look older, but the person may just be 16 or 15. But when we see very small boys, we don't allow them to play, unless they are with somebody. Some may even change (falsify) their ages, and use the false documents to open their accounts. Or they may be playing with somebody's account."
Just a couple of blocks away from this centre is a small church. The pastor who would not wish to be named told Saturday Tribune that the centres are frequented by "little children".
"Many of them go there, especially late in the evenings," he said. "Young people of all ages, I mean. With only N100 they can play for up to N7000. Many use their pocket money or feeding allowance; some would steal from their parents. Most times, they don't win, and you see them arguing loudly. After, they would go home, hungry.
"But our concern is not just the children; we are saying that this is not job creation. In the advanced countries that we are trying to copy, there are jobs. There are many options. So, betting is just one of them. But when you allow betting centres where there are no jobs, you create a big problem for our society."
I don't encourage it, but I can't help it – operator
While many of the operators of the betting centres denied encouraging teen gambling, it has actually been discovered that under-age kids throng the centres to engage in the act.
Therefore , the act of allowing teenagers and other under-aged to engage in pool betting and lottery has, without doubt, continued to elicit its controversies. For instance, while the law of the land insists that a person has to reach a decent age of adulthood, 18, before engaging in such practice, Saturday Tribune's findings in some of the pool centres around Lagos, revealed that the society's under-aged are increasingly getting neck-deep in a game that should be exclusively for adults.