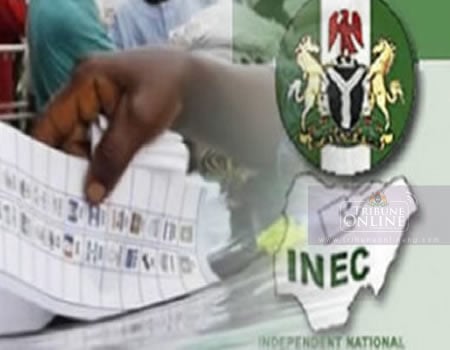 Mr Fatai Owoseni, Commissioner of Police, Lagos State Command, on Friday warned residents especially politicians, against carrying firearms during and after the Saturday local government elections.
Owoseni gave the warning at a meeting he held with all stakeholders at the POWA hall, Oduduwa, Ikeja.
He said that flouting of the rules meant `suicide' for the carrier.
Owoseni, who was represented by the Deputy Commissioner of Police Operations, DCP Edgal Imohimi, addressed parties chairmen, agents and supporters where they were made to sign an undertaking not to cause violence during the polls.
"If you want to commit suicide, come out with your firearms because the police will use proportional force against such persons," he warned.
Speaking on the ongoing measures put on ground to profile the party leaders and have their biometrics taken, the commissioner said such move would help the police to discharge their duties, especially in the eventuality of breakdown of law and order.
"We have profiled you and have taken your biometrics. We have also interfaced with you personally and we will tell you what to expect from us.
"During this election, we don't want political thuggery like we have witnessed in certain elections from different camps, which have caused mayhem.
"Arrests have been made and a special team at the Criminal Investigation Department (CID), Yaba, is investigating the cases.
"If any of the hoodlums are traced back to you, it will jeopardise your chances.
"Talk to your supporters not to be overzealous because we will not hesitate to write an intelligence report to your party and the government.
"Already, we have gotten some intelligence reports that some are ganging up somewhere and of course, we have sent our police team there.
"Also talk to your party agents that will represent you at the polling units. They must be patient and not cause problems, especially where materials are delayed due to logistic problems," he said.
On other measures put on ground, the commissioner said the police in conjunction with other security agencies had for two days conducted a Show of Force in some parts of the state.
He said the security operatives deployed for the exercise were also drawn from the military, the Lagos State Neighbourhood Corps and the Department of State Services (DSS).
"Also, we will today carry out overt and covert operations geared toward picking up the few remaining hoodlums that have been billed to cause trouble.
"The police will not interfere with the electoral process as stated in the electoral laws and if they flout it, call the attention of the LASIEC," Owoseni advised.
---
---