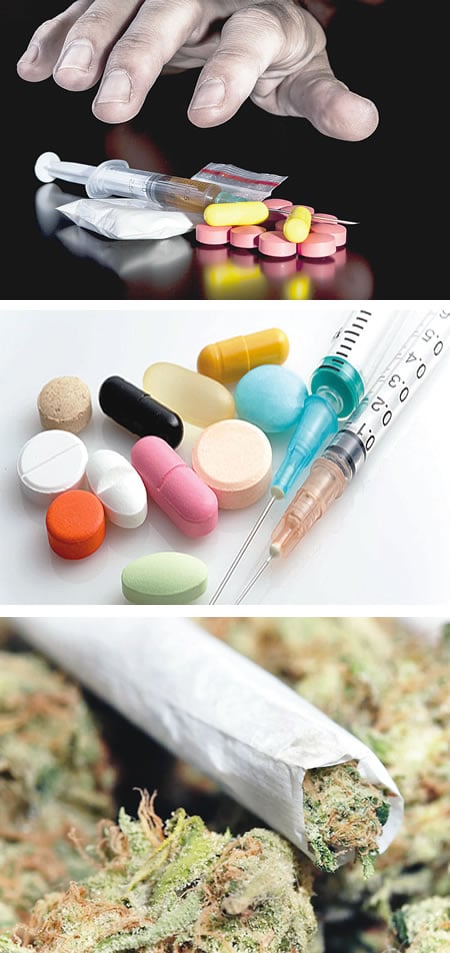 WE are sitting on a time bomb. Can you guess the number of young people who are suffering from drug abuse? Do you know how many they are in their homes where their parents are scared to let the public know what they are breeding? This is a country where we don't have the institution to handle a lot of these cases. How many rehabilitation centres do you know in Nigeria? How many people can afford to take their unstable children and wards to rehab? It is a big problem."
These were the words of a medical practitioner, Dr Segun Daramola, while speaking with Saturday Tribune on the reality of drug abuse and its menace in our society, with particular focus on Lagos.
Daramola also subscribes to the belief that drug abuse is an effect of western influence on our society.
"We all depend on foreign countries for existence. We wear their clothes, speak their language and now borrow their vices. When we were young, if you smoked cigarette, I know a lot of people that would cut friendship with you. Now, see where we are. Our children are in foreign schools where they imbibe some stupid cultures," he said.
Investigations have shown that the illicit drug market is a moneymaking business. And the targets are areas that are largely inhabited by the rich. This is said to explain why Lagos Island is alleged to be the headquarters of the business in Lagos.
"Oga, send me Loud. Five packs." The request came on the phone just in one sentence. The message was understood by the receiver who moved his head in apparent agreement. He dashed for his home, an uncompleted mansion along Fola Osibo, Lekki Phase I, Lagos, and grabbed the package. He waited patiently. Soon, a car pulled up right in front of the building. He handed the driver the package and in return got some crumpled hard currency notes. The driver explained that "he just arrived yesterday; he never changed the dollar" and then drove off.
That, it is said, is how easy it is to get an illicit drug in Lagos.
What is Loud, Arizona?
To a layman, 'Arizona' is a city in the United States of America. And 'Loud'? It literally means high in volume of sound. On the streets of Lagos, especially on the Island where the high and the mighty are known to reside, 'Loud' is the name of an illicit drug that is popular among the elites.
'Loud' is common among both the young and the elderly. The consumption of the drug cuts across ages, classes and statuses. Your pregnant neighbour may be hooked on Loud, just like your decent-looking colleague. That highly-placed gentleman that you admire may be an addict. The chairman of your neighbourhood's landlords' association may be living on 'Loud' daily. That is how popular the drug is among the Lagos elite.
Some years back, 'Loud' was alien to the Nigerian drug market. It is believed to have been made widely liked at home by Nigerians living abroad, especially the United States of America. A Colorado-based top-shelf weed that sells in the black market for up to $800 an ounce, the substance is infamous among cannabis and non-cannabis-using communities. In Lagos, a small pack of the drug sells for minimum of N5,000.
'Arizona' is a less popular drug compared to 'Loud' but it has its own market and is also favoured by the rich.
The illicit drug is said to have effectively retired the age of marijuana, popularly called 'igbo' or 'weed', in Lagos. While marijuana is believed to have been restricted to the consumption list of social outcasts and the poor, the rich go for stimulants like amphetamine, cocaine, ecstasy and methamphetamine. There is also the use of codeine and Rohypnol which are mostly common among students. A bottle of codeine, which has been banned by government, sells for between N2,000 and N2,500.
Reasons for drug use
While drug abuse by a section of addicts has been attributed to peer pressure, frustration and pleasure, it is a different ball game for the elites, for whom, it has been revealed, illegal drug ingestion has become a status symbol of some sort. A 36-year-old estate agent, Chukwu, who admitted to being a 'user', claimed that he was introduced to drugs by a friend as a prerequisite to joining a certain group which had got connections.
Chukwu disclosed to Saturday Tribune, his usual Sunday visits to one of his rich clients in Lekki: "He doesn't entertain us with food; we all go there on Sundays for dope. You can't go there if you are not his friend. That is where I meet most of the people that later became my clients. They are the happening people on the Island."
Another 'user', a young female undergraduate in one of the universities in Lagos, claimed to have been lured into drugs by her ex-boyfriend who, she said, was a friend to a popular musician in Lagos. She said she had stopped taking 'Loud' because she felt it was too strong for her. When asked what her favourite drug was, she responded rather slowly: "Codeine. I like mixing it with coke. That is the only thing I take now. It calms me."
In pursuit of a 'seller'
'Oga, you be police? I no want wahala o!' A faint voice rang out from the dark corridor of a building. He was briskly reassured by my companion, a known 'customer', who pulled him by the arm to the back of the building where he informed him of my mission with clear assurance that I would not mention his name or location.
The 'seller' scanned me with roving eyes while sieving through a grain of marijuana. Suddenly, he boasted: "This is a business they can never stop! Police dey take, army dey take, politicians dey take… This is our own hustle. With this business, I send my children to school. I can't steal. I make between N25,000 and N30,000 daily. I take supply every five days." When asked where and who he buys from, his countenance changed and he discontinued the discussion. It was later learnt that there is a stiff competition in the illicit drug market which usually leads to violence and killings.
Drugs, drugs everywhere
Drugs are the easiest item to buy on the Island in Lagos. It is as easy as buying a recharge card – once you understand the mode of operation.
On a visit to some of the beaches in Lagos like Kuramo, Alpha, Eleko, Oniru, Elegushi, one cannot but marvel at the sight of people taking drugs in public. Sundays are usually reserved for wild raves and celebrations at some of these beaches and the availability of drugs at such gatherings defines the fun.
The nightclubs are not left out as some club owners and managers have drug sellers at their beck and call. It is now commonplace to see youths converge on public places like hotels and parks and take all sorts of drugs without fear of being arrested.
I there a way out?
Drug abuse has persisted despite various measures that had been taken by the government in recent times. The National Drug Law Enforcement Agency (NAFDAC) recently released a record of arrests of 5,036 drug offenders between January and September 2017. Of the number, the agency said it prosecuted and secured convictions against 532. In view of the record, it is apparent that the war against drug abuse is not being won, especially considering the factors that facilitate the sales and distribution of illicit drugs in Lagos alone.
The only area considered as more popular in the illicit drug trade than Island is Akala, in Mushin. The area is regarded as the most notorious drug spot in Lagos. At a time, the police boasted to have burnt drugs worth N50 million at Akala, from where, it is believed, drugs spread to other parts of the city.
Some sources have pointed fingers at those they described as bad eggs within the ranks of the police and NDLEA for the canker that the illicit drug business in Lagos has become. They alleged that drug barons always have some personnel of both agencies on their payrolls whose jobs is to protect their paymasters by revealing any government plans against their interest.
The owner of Alibi nightclub in Lekki, Isaac Fayose, reasoned that to fight drug abuse, everybody needed to be sincere. "It is certain now that the problem is not that of the poor alone, current happenings in the country have revealed that the rich are the worst hit. If the father is not an addict, the children are, surprisingly even the mother. So, you can understand what I said earlier that we can achieve success if we fight it with all sincerity. Let there be campaigns, let the victims come out and share their experiences. Let them seek help. Then you will see the result," he said.