Akin Adewakun , Shola Adekola , Chima Nwokoji and Olalekan Olabulo investigated what seemed a ridiculous claim only to find out an incredible truth that can only be Lagos-compliant. 
In a carvedout section of the popular Oshodi bus stop (name withheld), a popular union chieftain (popular cognomen withheld) holds sway. His TERRITORY stretches to nearly every space identifiable in the said area. He has trusted allies, seeing to the wellbeing of his fiefdom. Two of them (popular cognomen withheld) stand out in their duties.
The three popular street-wise could pass for pious adherents of the Christianity faith.
Even in their rugged lifestyle and living, they still remember the Holy commandment of "remember the Sabbath day and make it holy". The modern-day Sabbath day is Sunday and they are faithfully keeping the injunction by not engaging in any form of "unholy" deed of collecting rent from their tenants on the Lord's day.
Yes, the boss is a landlord in Lagos without laying any foundation, putting any moulded block of any shape on another or spending a dime to put any structure in place. He is the landlord to homeless Lagosians who pass the night under the popular Oshodi bridge. His fiefdom has been extended to the under-the-bridge, with his two trusted "boys" serving as the caretakers.
The space isn't free for the tenants but the payment pattern is easy.
Every night, Saturday Tribune findings showed the two "caretakers" pay a visit to the tenants to collect their daily rent of N50 and woe betides anyone who fails to pay up.
Oshodi under-bridge isn't the only "converted" accommodation in Lagos, where rent is being paid, Saturday Tribune's searches also discovered other places like Iganmu, Iddo, Apapa, Obalende, Apongbon, CMS under-bridge, and like Oshodi's landlord and his caretakers, the other "accommodations" too have their landlords, caretakers and a whole lot of their tenants.
Apart from the under-bridge accommodation, nearly all other open places like car garages, collapsed and uncompleted buildings as well as motor parks, findings revealed, also attract nightly rent.
The Oshodi landlord is a very popular  street urchin, not just in Oshodi,  but all over Lagos and neighbouring states. The various raids by operatives of the Rapid Response Squad and the Special Task Force on the Environment and Other Offences  have not stopped him and his boys from collecting rents from their tenants.
One of the tenants who spoke with Saturday Tribune  said that over 500 people pay N50 between Mondays and Fridays  as rent to the landlords who, according to him, come late in the night to collect the rent.
He narrated that "they come late in the night when people must have been sleeping. They move around  Moyosore Shopping Complex, the open space around Bolade and the Railway line, to collect the rent on a daily basis. They allow us to sleep for free only on Sundays."
Saturday Tribune checked the Sunday free offer with associates of the caretakers. They said it was the generosity side to the landlord, in agreement with the "caretakers," it is called "bonus."
Saturday Tribune accosted another street urchin in Oshodi, who preferred to be called simply as Kasim. While many looked forward to good times at home, he sat gloomy on the pedestrian bridge, his right hand by his cheek. Kasim  was waiting for shop owners to close so that he could lay his bed. It was gathered that the Oshodi bridge has been home to many urchins like him.
Despite these urchins being evacuated in 2009 by the Lagos State government for constituting nuisance through extortion and robbery, it seems to be business-as-usual again under the bridge as the urchins, popularly known as 'area boys', are back to the area and flourishing.
Chatting with Kasim, Saturday Tribune discovered that a few had problems with their guardians and parents and ran away from home. There are those who are orphans and have resigned to living under the bridge. The urchins were seen on the rail line, popularly called Oju-Irin, under the Oshodi  bridge, chatting and gambling. These, it was learnt, are their pastimes under the flyover.
"I became used to sleeping under the bridge that is why I don't complain to anybody. Living here also gives me freedom. I can do what I like anytime. But now, I don't like to sleep under the bridge any more. I sleep in front of any shop I like. When we sleep in front of shops, we act as security. In the morning, we go out to look for money.
"But when I started sleeping under the bridge, the boys who were there before me first harassed me. That is what they do. If they harass you and see that you are too afraid, they collect money but if you say you don't have money, they would leave you. So when you sleep two or three times, they will see that you are not troublesome and leave you alone. "
According to Kasim, sleeping under the bridge is not good, so he expects nobody to  collect money everyday from him for sleeping under the bridge. I did not pay anybody before I started sleeping in that shop," he said.
STRANGE PAYMENT
Kasim is only one of the few lucky ones. But he isn't completely sleeping for free as he runs different errands for the Oshodi landlord. Others who work to make their money pay even without being harassed. About two months ago, the Oshodi landlord moved a step forward by producing identity card for all his tenants to ascertain genuine and rent-paying tenants and fish out newcomers who may want to mingle with the regulars and dodge payment.
Saturday Tribune discovered that each tenant paid N1,000 for the ID card. One of the tenants who wanted his identity hidden for obvious reasons claimed the sub-standard ID card didn't last two months. "It is bad (damaged) now. Nobody carries it again since you can't identify anyone using it".
About 500 tenants paid, with the landlord raking almost half a million from the project, outside of the nightly income of N2,500, making a monthly rent of about N75,000.
The tenant however disclosed that even without the ID card, new faces are still easily fished out since nearly everyone knows his "flatmate". "New persons are simply asked to pay or leave. These people (tenants) are tough and rough fighting is nothing to them. They can handle anyone."
The good news, however, is that the accommodation is possibly the best-secure area anyone can live in Lagos.
"Nobody can steal here o. They will kill the person. There is nothing you leave behind in the morning that you won't meet when you return at night."
Funny enough, many of the tenants steal to make a living.
Until last Monday, a man simply identified as Foreigner was the landlord for the over 150  people, mostly from the northern part of Nigeria and neighbouring African countries. Now he is a co-landlord as the local council in the area  has contracted collection of levies in the area to a company.
The company has, however, decided to carry Foreigner along in the collection of the rent.
Raymond, a resident of one of the communities around the Iganmu  bridge  said "the fact is that they sleep under that bridge. If you get there late in the night, you will find them and they will also be there early in the morning. They are mainly  people from the North, who ride motorcycles for a living and do other menial jobs. They don't have houses. They come there in the night and sleep."
Hamidu, a commercial motorcyclist told  Saturday Tribune that he and some of his colleagues sleep around the bridge and that they pay to boys who are working for Foreigner .
He, however, pointed out that many of them have a way of not paying regularly. He also added that the rent has increased from N50 to N100 as a company is now in charge . Hamidu said, "At times we pay N50 but at times we would go there late and find somewhere to sleep. We used to pay to Foreigner but since Monday, they now give tickets and the money has increased to one hundred naira.
Investigations by Saturday Tribune  revealed that the contract by the local government was not actually for those who sleep under the bridge but for those who sell under the bridge. However, those, who sleep under the bridge hide under the umbrella of those who sell under the bridge and they all pay to sleep under the bridge.
Until the administration of Babatunde Raji Fashola  beautified the Iganmu Underbridge, Base (a very popular Area Boy) was the landlord. He was responsible for giving space to those who had resigned to sleeping under the bridge. Apart from collecting money from the area boys, who were sleeping under the bridge, the fellow was also the landlord for tanker drivers who preferred to sleep under the bridge to lodging in a decent  hotel.
Though such derelicts living under the bridge for a fee were almost non-existent, along the Iyana-Ipaja Abule Egba axis, in Agbado Oke Odo Local Council Development Area of the state, similarities of such examples  abound.
A WIDOW'S NARRATIVE
For instance,  while Madam Shakirat's case might be a bit different, it still remains one of those cases that confirm the fact that there are no free accommodations in Lagos.
Since losing her husband few years ago, the mother of five has been  living in an uncompleted building in Aboru, a community in Agbado Oke Odo Local Council Development Area, but this time not with the permission of the owner of the property who lives in Texas, United States of America.
After getting close to more than six months of grace from her former landlord due to her husband's untimely death in one of his trips outside Lagos, Shakirat, fondly called 'Mama Tao' in the  neighbourhood, was introduced to Baba Ruka, the contractor handling the four-storey building she is currently occupying.
Though without the necessary facilities such as doors, windows,  toilet, well-furnished kitchen and other gadgets  that would have made the building worth living, 'Mama Tao' has been surviving in one of the  apartments in the building for the past two years now, paying between N500 and N1,000 per month as a rent to the contractor, albeit without the landlord's knowledge.
"It depends on what I can afford for the month, because this can not be described as accommodation in the true sense of the word,' she stated.
"I see little difference between the woman and those living under the bridge in terms of accommodation. This is an uncompleted building which some people will not even agree to live in free of charge, yet she is still made to pay some token as rent," stated Mrs Monisola Ayanda, a neighbour.
While Madam Shakirat has to make do with an uncompleted building, Sheriff, whose full identity is still shrouded in mystery to the people of Agbado Oke Odo Local Development Area, sleeps in one of the stalls at Ile Epo Market.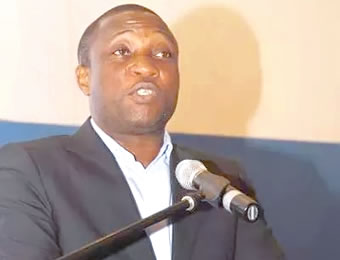 Sheriff, who works in the market as a loader, according to a resident of the area, is always allowed access to the market at nights despite the ban on such act after some money must have exchanged hands between him and his supposed 'landlord', the security men, watching over the market.
"'Sheriff has been sleeping in this market for some time now despite government's ban on such act. But the fact remains that he tips those security men before he is allowed to do this. That is Lagos for you, a city where there is no free accommodation, even in uncompleted buildings," stated this resident, who would not want his name in print, for fear of being traced.
There is also said to be a novelty introduction at one of such accommodations on Lagos Island where receipt is issued to the tenants. They mostly pay on weekly basis.
Landlords vs Caretakers
To gain control of rent collection, battles are said to always be tough among those who want to be landlords with the toughness of the recruited caretakers in street fight said to be the deciding factor almost always.
Saturday Tribune also stumbled on the story of how leading area boys have shared the bridges in Lagos among themselves to manage as landlords, to ensure peace and spirit of landlordship. It could not be confirmed if landlord association meetings do hold but it was gathered that everyone knows the other person's property.
According to information gathered from Tope Amusa who hawks satchet water under the bridge at Dopemu, "if you don't have the permission of the most senior area boy under that bridge, you dare not attempt to  loiter around there once it is 11:00pm."
For him, he hawks between four and six bags of satchet water depending on the weather, till 10:30pm, after this, he goes to look for food to buy and eat before going to sleep.
Before you can be allowed to sleep there, you need to pay N30 per night to the 'Olorioko' as he is fondly called.
Amusa disagreed with the notion that majority of those who sleep under the bridge are destitute. Some of them, he said, are forced to take solace there in view of the economic hardship which made it impossible for them to rent a proper  accommodation.
When asked how they manage to sleep there during rainy season, he pointed at a half torn umbrella which he claimed he uses under such a situation.Who says there isn't a way out of any life situation?
Reacting,  the chairman, Lagos House of Assembly Committee on the Environment, Honourable Saka Fafunmi said "The development is a reflection of the pathetic situation we have found ourselves in, not just in Lagos State, but Nigeria as a whole. It is also a reflection of years of decadence of the society. The problem also shows what happens when people who have no business in Lagos keep trouping to Lagos as if the streets and roads in Lagos are paved with gold.
"We need to ask ourselves where street hawkers who daily troop to Lagos sleep. I have seen okada riders, particularly those from the North, sleeping in their wheelbarrows and on their okadas.
"However, what the government can do to correct this anomaly is to take a strong stance on the issue by ensuring that only those who should be in Lagos remain there; anyone who has no business in Lagos should be shown the way out.
"Yes, in doing this, the rights of the people must be respected, but the rights of the state must also be respected, because apart from sleeping under the bridges, this is the same set of people who defecate in wrong places, and end up engaging in all manners of criminal activities, therefore, the state government should set motion in place to rid the state of anyone who has no business there".