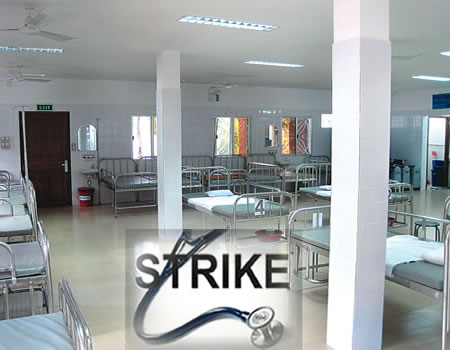 THE Lagos State House of Assembly Committee on Health Services on Thursday pleaded with the striking members of the Joint Health Staff Union (JOHESU) in the state to call off strike within 24 hours.
The Chairman of the Committee. Mr Segun Olulade made the plea at a meeting with the executive members of JOHESU on the protracted industrial actions that had paralysed health services across the country.
According to the chairman, "You have every reason to make the request but put yourselves in the shoes of the helpless patients.
"Please, we are appealing to you to call off this strike. Gov. Akinwunmi Ambode has told you he identified with your cause to address your agitations fully.
"The Governor and government of Lagos State is working on your behalf to make sure every issue is addressed. What is important remains lives of every Lagosians.
"People need your services, it is not fair to withdraw such important life-saving service, people are dying.
"I am passionate about this issue because I lost my mum to this kind of circumstances.
Olulade, who commended the union for good conduct and cooperation in addressing the issue, persuaded them to call off the strike in 24 hours.
Speaking with newsmen at the end of the meeting, Olulade, who assured that Lagosians would see a change as a result of the meeting, commended Ambode for acceding to the union's requests.
He urged the striking workers to appreciate the gestures of Ambode by resuming work immediately, saying Ambode's massive investments in health sector remained unparalleled.
Earlier in his argument, Mr Olatunji Tajudeen, Chairman, JOHESU, Lagos State, said that the strike was about the welfare of his members.
Tajudeen, who admitted that so many hapless patients had been suffering due to the strike, added that a member of the union had also lost his sister and baby because of the strike.
Tajudeen, who also frowned at the failure of the state government to pay HSC workers garment allowance, said government's appeal might meet stiff resistance from members.
He, however, said that the union leaders needed some time to go back and consult with its congress before returning to the House on the members' position.
ALSO READ: Ending the JOHESU strike
"We need more assurances from the government because we have been beaten before, but we will relax it(strike).
"We love our Governor very well and he has been doing well too, but we will go back to our people before they accuse us of being bribed".
The union leader also cautioned Medical Directors to desist from victimising their members.
Nigerian Tribune reports that JOHESU had commenced a nationwide indefinite strike on April 18, to protest alleged Federal Government failed to meet their demands.
Their demands included the adjustment of the Consolidated Health Salary Scheme (CONHESS).
Health sector employees in the state and local government councils joined JOHESU members in their ongoing health workers strike on May 11.