Lagos anti-corruption law suspicious ― PDP
•Says State Attorney-General should clarify matter for Lagosians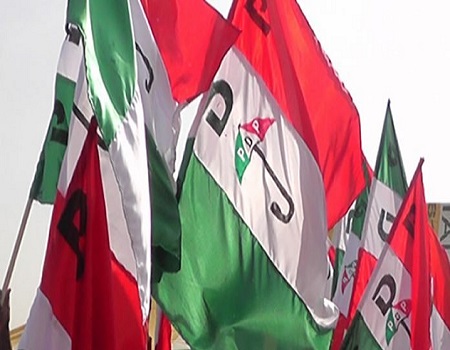 Lagos State chapter of Peoples Democratic Party (PDP) said, on Monday, that the move by the state government to take over prosecution of past political office holders facing corruption allegations from federal agencies, including the Economic and Financial Crimes Commission (EFCC), among others is suspicious, calling on the State Attorney-General, Moyosore Onigbanjo (SAN) to come up with clarification to let Lagosians know what they meant by taking over.
The party argued that the newly anti-graft Bill signed into law by the state governor, Mr Babajide Sanwo-Olu, through which such would be accomplished, can in no way guarantee that there would be proper prosecution by the Lagos State government.
This was just as the main opposition PDP asserted that it was not possible for one to be a judge in his own case, declaring that such was a "clear principle of natural justice."
The State Publicity Secretary of PDP, Barrister Taofik Gani, said this while speaking in reaction to a newspaper report (not Nigerian Tribune) that the Lagos State government was seeking to take over prosecution of corruption cases of former governors of the state, among others from the EFCC and other Federal anti-corruption agencies.
The former governors are Asiwaju Bola Ahmed Tinubu, who is the National Leader of ruling All Progressives Congress (APC); sitting minister of Works and Housing, Mr Babatunde Fashola and Akinwinmi Ambode, while the incumbent Speaker, Lagos State House of Assembly, Hon. Mudashiru Obasanjo and the immediate past Speaker, Hon. Ikuforiji, among others, is also being touted for such consideration.
"The report going around about the Lagos State governor signing into law the possibility of taking over from the Federal Government agencies prosecution of Lagos State government officials needs seriously detailed clarification.
"The Attorney General must come out to let Lagosians know what they meant by taking over. Is it to avoid due diligent prosecution or to guarantee proper prosecution?
This is because a lot of corruption has been going on in the state since 1999 especially and there is the feeling that it is still going on and if it is coming to the fore that the state governor is interested in taking over prosecution of officials who are accused or are charged or who are being prosecuted by Federal Government agencies, then it brings a lot of suspicions.
"There is no way you can have the guarantee that there would be proper prosecution by the Lagos State government and what we are trying to say here is so clear, you cannot be a judge in your own court, this is a clear principle of natural justice," the PDP spokesperson argued.
The PDP chieftain, while noting that the state government might still need to do proper explanation or clarification on the new Act that permits the establishment of Anti- Corruption Agency much like the EFCC, quickly declared that it would be a wrong step for a governor, at this time that there were serious accusations of corruption in the state, to begin to sign into law the possibility of taking over corruption cases charged by the Federal Government agencies against Lagos State government officials.
Gani, while further declaring that such amounted to pure partisanship which Lagosians would not allow, said the party would throw its support behind any civil society organization and other popular opposition groups to ensure that such law does not become operative.
"This is pure partisanship and Lagosians will not allow it. We would support any civil society organization, we would support all other popular political opposition groups to ensure that such law does not become operative because that is repugnant," he said.
"It is repugnant. How can a state governor sign into law such a possibility? he queried.
He argued that should the law become operational, it means the Federal police can just look the other way when the Lagos State government officials get involved in unlawfulness, calling on the Federal Government, the security agencies, anti-corruption agencies and all other agencies to ensure that their powers were not abrogated and to ensure that wherever it was so attempted, the normal cause of action would be applied.
"In any case, we know that as we live in a federation now, the Federal law supersedes all state laws, just as the state laws override local government laws.
"You (FG) can go to court and ask it to declare any law null and void and they would see how Lagosians would support them," he opined.
The PDP chieftain, however, said the party saw the development as an opportunity to call on Lagosians to begin to watch very well what would happen between now and 2023, adding that is the reason why this type of law can come to place at this time.
YOU SHOULD NOT MISS THESE HEADLINES FROM NIGERIAN TRIBUNE
Lagos anti-corruption law suspicious
We Have Not Had Water Supply In Months ― Abeokuta Residents
In spite of the huge investment in the water sector by the government and international organisations, water scarcity has grown to become a perennial nightmare for residents of Abeokuta, the Ogun State capital. This report x-rays the lives and experiences of residents in getting clean, potable and affordable water amidst the surge of COVID-19 cases in the state… Lagos anti-corruption law suspicious
Selfies, video calls and Chinese documentaries: The things you'll meet onboard Lagos-Ibadan train
The Lagos-Ibadan railway was inaugurated recently for a full paid operation by the Nigerian Railway Corporation after about a year of free test-run. Our reporter joined the train to and fro Lagos from Ibadan and tells his experience in this report… Lagos anti-corruption law suspicious