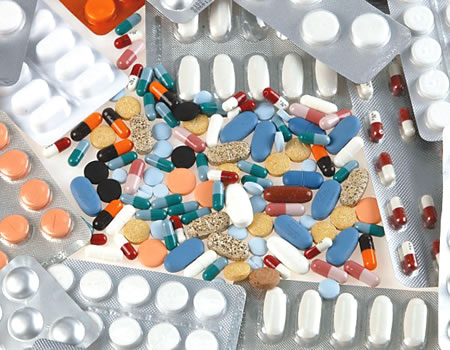 PHARMACEUTICAL Society of Nigeria (PSN) has raised the alarm over imminent security implications if the federal government continued to shun investment in pharmaceutical industry.
Speaking at a town hall meeting with members of the association in Ilorin on Tuesday, the national president of the group, Alhaji Ahmed Yakassai, said that the country is presently importing 70 percent of pharmaceutical products as against 30 percent exportation.
The PSN national president, who said that some African countries and other nations had bombarded Nigeria with imported drugs, added that "anyone can put anything together anywhere and then kill people anyhow. That's part of the security implications.
"We are supposed to be exporting but Nigeria is still getting drugs from China, Pakistan. Ghana has the plan to be the hub of drug production in Africa. They want to produce and be bombarding Nigeria with pharmaceutical products. If the medicines are not available surely there'll be security problem", he said.
He also lamented that two of local pharmaceutical companies, Evans and Swifer, had either been sold or taken over by banks, saying that despite available human resources in the country, the industry was bedevilled with challenges in infrastructure, high tax, lack of control mechanism, chaotic drug distribution, substandard/drug abuse, lack of government support, inadequate funding, and quackery among others.
ALSO READ: FG to ban open drug market in 2019
The PSN national president, who said that the association was owed a total sum of N4 billion between the period of Obasanjo and Buhari administrations for drug purchased, added that the present Buhari administration recently paid N2 billion out of the debt.
He said various governments preferred to buy on credits from Nigeria's drug manufacturers and pay cash to manufacturers in India and other countries.
Alhaji Yakassai, who called for a state of emergency on drug abuse, described drug distribution in the country as chaotic, while adding that many people see pharmaceutical industry as an easy way to make money.
He said that there were growing unconventional ways of drug abuse among Nigerians of all sexes and ages in many parts of the country, lamenting that councils for the control agencies were not formed to ensure effective control.
"I don't know how they got to know those unconventional ways of drug abuse. Tramadol plus cough syrup to the methylated spirit and soft drinks. Inhaling pit latrine, gutters. It's the quacks behind this unprofessional conducts. Patent medicine dealers are no pharmacists, though there are bad elements in every profession and in every society. That's more the reason corruption should be fought wholistically. It affects all sectors. And we can't call for a ban of the abused drugs. We can only control it, while importers of illicit and substandard drugs should attract life sentence because they cause the death of a lot of people", he said.
He also said that the federal government was yet to fulfil its promise to close markets where illicit and substandard drugs are sold in the country, and replaced with coordinated wholesale markets where police. NAFDAC and other control agencies would be located to do random checks on the operators.
Alhaji Yakassai expressed the hope that the pharmaceutical industry would be encouraged when Dangote petrochemical industry starts operations, saying that active pharmaceutical ingredients would be derived to boost local pharmaceutical production and exportation.