Lack of dreams could ruin a man — Graduating students told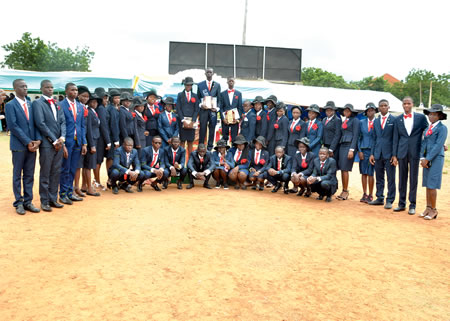 The Executive Director of Niji Groups, Ilero, Oyo State, the second largest cassava farm in Africa, Mr  Kola Lucas Adeniji has said that in preparation for the demands one would face in life, a lot of importance has to be attached to strategy.
He said this in his speech as the guest speaker at the 16th Valedictory Service of Sharon Rose Schools and College, Saki and Ago Are, Oyo State, recently.
In his speech, titled "Strategic Preparation for Leadership and Global Demands," presented by the Registrar of one of their institute, Niji Institute of Sustainable Agriculture (NISA), Mr Ayodeji Taiwo, charged students to dream as lack of dreams is the worst thing that could ruin a man and there is no limit to what they can achieve in life except the ones they have concluded in their minds they cannot achieve."
Mr Taiwo made reference to his boss, whose beginning was very rough but today has become a man to be reckoned with not only in Nigeria but the entire world. According to him, the Executive Director of the group of business is an Engineer by profession but identified what he could put his life on, Agriculture, captured and pursued it with strategies and has finally made it. He however, gave some strategies that would prepare both the outgoing students and the remaining ones for leadership and global demands as they climb ladders of success. Some of the strategies include writing down their dreams which would bring it to motion, talking about it because the more they do, the closer they are to it and also having a focus in manageable and meaningful objectives.
Insecurity: Recruit local people for policing, Oyetola tells IG
In addition to these, the students were charged to persist in their pursuits, having patience while they also get themselves equipped with information technology in times like this.
The principal of the school, Mrs O.T Oluwashola, in her speech, acknowledged the manifold blessings of God bestowed on the school to witness another Valedictory Service. She also appreciated the members of staff, both teaching and non-teaching for their untiring efforts as individuals and corporately throughout the academic session, as demanding as the organisation's work is. She prayed that their helpers of destines will locate them. Mrs Oluwashola made mention of the laurels from numerous competitions that the graduating set of students brought to the school. These she said include the second highest score in JAMB in Nigeria, among others.
Parents were also applauded for donations of awards, gifts and prizes for various achievements which made the day memorable for the students. The alumni body was not left out because of their immeasurable support given to the school in procuring both local and overseas scholarships.
The overall best student, Praise Akinlolu, while delivering her farewell message appreciated God and everyone who contributed to the great feat she achieved. The school owners, her parents and teachers were all thanked and prayed for, for spiritual, moral, physical, material and financial supports throughout her pursuits in the secondary school. She however admonished her mates and other students to know that success and excellence were made available to those who are willing to pay the price and meet their demands. "God created us to be successful and excellent in our all our endeavours, but we have to work hard to bring it to reality. Go for success and excellence!," Praise said.