Kwara Assembly accuses past administration of using road projects to siphon money
Allegation baseless ― Ex gov's aide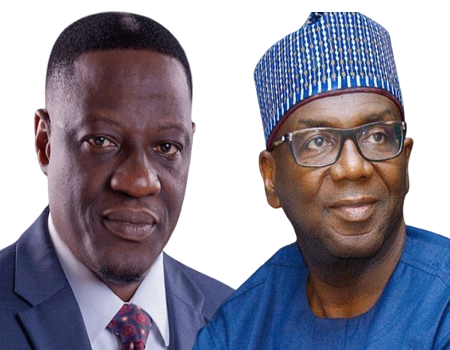 Kwara State House of Assembly has accused immediate past administration of former governor Abdulfatah Ahmed of allegedly turning the 33 kilometre Ilesha/Gwanara road contract in Kaiama and Baruten Local Government Areas of the state to a conduit pipe to siphon the resources of the state.
This is just as the media aide of the former governor, Abdulwahab Oba, described the allegation as a political statement to please people.
Speaking with journalists at the weekend during the one-year celebration of the ninth Assembly of the state House of Assembly, the Speaker, Rt. Hon Yakubu Danladi said that "The former administration in the state awarded the surface dressing of the 33 kilometre Ilesha/Gwanara road to a contractor and nothing was done on it. This is a popular road where this 'O to ge' movement started. The youth in the area blocked our former House of Representatives member, the video went viral.
"It is a 33-kilometre road which the former governor, Alhaji Abdulfatah Ahmed used as a conduit pipe to siphon Kwara resources because N1.8 billion had been paid to the contractor with nothing being done on the road."
The Speaker, who said that the people in the area had never seen an asphalt road before, added that Governor Abdulrahman Abdulrazaq had awarded the road with asphalt tarring at a lower cost, stressing that the project would be completed before the end of this year.
"There are some of our villagers who have never seen asphalt since the beginning of the earth, Abdulrazaq is the first governor to construct asphalt road in Gwanara. The contractor has been mobilized to the site and by December, the project would be completed", he said.
However, Chief Press Secretary to former governor Ahmed, Alhaji Abdulwahab Oba, said that the contract for Ilesha Gwanara road was awarded by the administration and the contractor was paid in relation to the work done adding, "we paid according to the specification of the job as approved by the state Ministry of Works.
"What the speaker has said is political, to please his people. We have done the needful when we were In government. The present administration should do the needful by serving the people. It should face the future and do the needful because four years is close," he said.
Speaking on the achievements of the Assembly, Kwara House Speaker said that the Assembly passed 22 bills and motions which had a direct impact on the people.
Such bills, the Speaker said included the Social Investment Bill, the Child Rights Law, Owo Arugbo and the Sports investment bill.
He stated that each of the 24 members in the Assembly had spent their personal allowances to provide comfort for the people in their respective constituency.
He stated that the state government had sunk 14 motorized boreholes in Baruten local government while electricity had been restored and extended to some villages where it had been off in the past years.
Stop Nepotism, Embrace Others, Clark Tells Buhari
Elder statesman and convener of the Pan Niger Delta Forum (PANDEF), Chief Edwin Clark, on Friday, admonished President Muhammadu Buhari to drop the toga of nepotism and injustice against the South South, saying "things cannot continue this way… Read full story
Ibadan Records Third Killing In Two Weeks As 21-Yr-Old Lady Is Macheted To Death
One Grace Oshiagwu was macheted to death on Saturday by yet-to-be identified persons, in Ibadan, Oyo State. The deceased, a 21-year-old lady was killed in a church mission building at Idi-ori Area,Shasha, off the Lagos/Ibadan Expressway… Read full story
Pulling Down Christopher Columbus' Buhari Statues
YOU may not like their reckless consumption of drugs, the airs they put on as "stars" and the pumped-up peacock ego sometimes exhibited by them at their apogee of stardom but the reality is that, popular culture musicians, that is indigenous African musicians and even Africanist musicians among them, are prophets of… Read full story
Do Black Lives Matter In Nigeria?
The sheer wickedness of his murder by the police turned George Floyd into a global figure as the world rose in one accord to condemn the inhuman treatment meted to him which resulted in his death. As soon as the video of Derek Chauvin, a former Minneapolis Police Department officer, kneeling on the neck of… Kwara governments Kwara governments Kwara governments Kwara governments Kwara governments Read full story
Buy and read digital replicas of your TRIBUNE titles by subscribing through E-VENDING