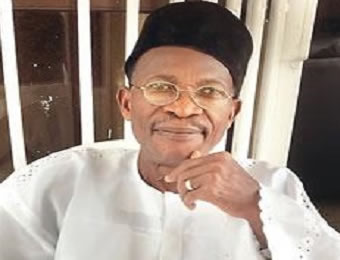 FORMER Secretary General of National Union of Petroleum and Natural Gas (NUPENG), Chief Frank Kokori and Former Gubernatorial candidate of the Labour Party (LP), Chief Great Ogboru have warned against hijack of the leadership of the All Progressives Congress (ACP) by some elements in Delta State.
The two chieftains of the APC gave the warning on Monday in Abraka, Ethiope East Local Government Area of Delta State during the inauguration of a pressure group, the Light of APC, headed by Ossai Abe.
Kokori, who's a member of the Board of Trustees APC in the state, disclosed that some chieftains of the party were unhappy with the defection of party heavy weights from other parties to the APC because they had plans to hijack the party for themselves.
The 2015 LP governorship candidate in the state, Chief Ogboru, therefore, warned that if APC allowed imposition of candidates in the party, it would fail as it did in the last Warri South House of Assembly by-election held in April.
"I was very surprised while listening to the secretary to the PDP national convention, who said that they have learnt their lesson and would no longer impose candidates.
"I believe as an opposition party in Delta State, that is what we should be doing.
"If we allow imposition in APC like what happened in the Warri South House of Assembly by-election, we would face similar encounter in future, but I believe we have learnt a bitter lesson from that election because we imposed a candidate.
"I have only one ambition for the APC which is that our APC should be a party run by the people of the state.
"I do not make a chairman from my bedroom, but insist that the people must make their leaders because only when they do this can they come together and plan with their leaders to effect change and that is the only time they can defend themselves," Ogboru noted.
Chief Kokori, while speaking further, said: "When persons from Light of Labour, part of PDP, Accord Party and others were jumping into the APC, those of us who were patriotic and wanted change of government, were all joyful, but I never knew that some founding fathers of the APC in the state were not happy because they had plans to hijack the party, but the irony of it is that no one can hijack the party.
"I'm a member of the BoT of the APC and I was elected by the 3 senatorial districts. I want to liberate my country; I want to liberate my own state.
"We want government in Asaba so that good governance and dividends of democracy could come to everybody but what I see from those who we placed to run the party is those who take the party as a professional chairman, secretary, treasurer and professional gubernatorial candidate. "