KOICA awards scholarships to 11 Nigerian govt officials to study in Korea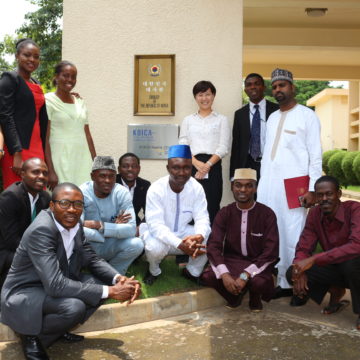 The Korea International Cooperation Agency (KOICA) office in Nigeria has awarded fully funded scholarships to 11 Nigerian government officials, to pursue Master's Degree programmes in the Republic of Korea.
The 2017 KOICA scholarship recipients would study in various fields of; Information Communications Technology  (ICT), agriculture, public administration, trade and energy policy, water resources, gender equality, and urban development in leading Korean Universities.
This was disclosed during the pre-departure orientation on Friday, July 27 at the Embassy of the Republic of Korea.
Since April 2008, KOICA has sponsored over 1,500 Nigerian government officials from various ministries, departments and agencies nationwide. KOICA's runs long-term (scholarship) and short-term (2-3 weeks) courses, which are strategically designed to contribute to the long-term development needs of Nigeria and developing partners at large.
The organisation stated that "The KOICA sponsored fellowship programme branded as Capacity Improvement and Advancement for Tomorrow (CIAT),  supports the Human Resources Development (HRD) of partner countries, and aims to narrow the knowledge gap between developed and developing countries.
"To meet this goal, KOICA invites technicians, researchers, and policy makers to study in Korea, and shares Korea's development experience and knowledge. Visit www.koicainnigeria.org for more information on our activities.
"It is our hope that this scholarship would provide the invaluable opportunity to enhance the technical and administrative skills of the beneficiaries, and restore their confidence to contribute the lessons learnt from Korea to the development of Nigeria upon their return," it said.