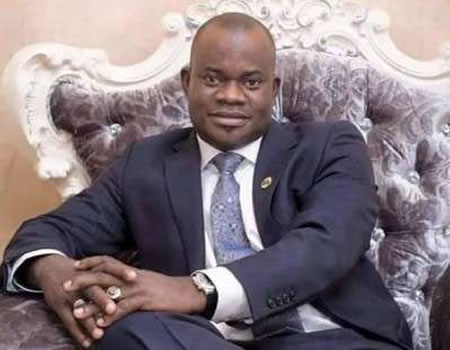 Governor Yahaya Bello of Kogi State has declared his administration free of any salary arrears, saying that he borrowed the sum of N10billion to settled outstanding staff salaries.
Speaking to State House corespondents after observing Juma'at prayers at the State House Mosque, he commended President Muhammadu Buhari for his release of another tranche of the Paris Club refund to states.
He said: "In Kogi State today, we are up to date as far as salary is concerned. In the month of December,  Mr. President magnanimously assisted us with another tranche of Paris Club Refund, our own figure was N1.2 billion and some other change on top.
"We didn't just stopped at that, we borrowed up to N10 billion and we added November/December allocations to our figures and we were able to clear four months at a stretch before Christmas and some left over were cleared before this January in Kogi State.
"As you all know, the salary was very bogus and according to the figures we had, we were able to  distribute it among these months. So, glory to God as far as Kogi State is concerned."
The governor said his administration has activated "clock-in" device to confirm the presence of workers at work before they are paid their salaries.
According to him, "Moving forward from this January, we have decided that we are going to make use of our clock-in device for every civil servants in Kogi State both at local and state levels.
"So, that as you come to work and clock-in, that is exactly how your salary will end generated.
"It is online, it is automated. So, nobody is going to cheat anybody. That is how we are going to go in the state. So, Kogi state civil servants, pensioners are all happy with this administration. Thanks to God and Mr. President for this magnanimity."
On kidnapping in Kogi, he affirmed that the state has become very safe as it had not recorded serious crimes in recent times.
He stated: "In Kogi state today. we have done tremendous work as far as security generally is concerned.
"In the months of November, December and this January, there has not been any single case of armed robbery, kidnapping even mere stealing.
"One attempt was made. As I speak, the DSS in collaboration with Army and Police have apprehended a particular gang that attempted to snatch a vehicle from a citizen.
"The security operatives are collaborating with us. We are spending a lot on security. So, collaboration between the security agencies and understanding by the people, they are giving us a lot of information and we are treating them with utmost secrecy and we are working harmoniously together.
"Let me digress, the Fulanis in Kogi State are equally collaborating with us. Even the criminal elements amongst them, they are the ones even apprehending them and handing them over to the security agencies.
"So, we are living very harmoniously with the Fulani herdsmen, farmers and the citizens. Travelers are safe day and night because anywhere you go you see security operatives and we have even vigilantes, hunters that are equally assisting us in our farms and so many other deserted areas. So Kogi is very safe."