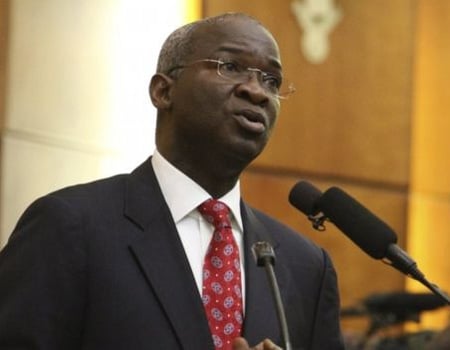 The Federal Executive Council presided over by Acting President Yemi Osinbajo on Wednesday approved N7.94billion for the reimbursement of Kwara Government to undertake the construction of the Kaiama-kishi road.
The Minister of Works, Power and Housing, Mr Babatunde Fashola disclosed this while briefing State House correspondents alongside the Minister of Transportation, Rotimi Amaechi and Minister of Finance, Mrs Kemi Adeosun, on the outcome of the Council's meeting in Abuja.
According to him, the road serves the Agricultural belt that produces Agro Product between Oyo and Kwara states.
"So, Kwara has applied to be allowed to take that road on the basis that they will be refunded at sometime in the future.
"We have actually received anticipatory approval from Mr President and the Council has ratified that approval for them to continue," he said.
He further disclosed that the Council approved 186.6million dollars for the completion of the AFAM Power plant, which was part of the ministry's roadmap for incremental power to the grid.
"Council ratified the earlier approval given for GE to undertake that project so that we can complete 240MW of emergency power through 830MW turbines this year.
"The Council also approved "2.2million dollars for the construction and rehabilitation of the sub-station to enable the evacuation of the power, once the turbines are installed," Fashola added.
In his contribution, Amaechi revealed that the Council approved N500million for the completion of Baro River Port in Niger state.
"We got an approval for the completion of Baro River Port. The council deliberated on three major contracts that will assist us in the completion of the project.
"We hope that in the next four to six months we should be able to complete the Baro River Port.
He said the Council directed the Minister of works, Power and Housing to look into possibility of reconstructing the roads leading to the River Port while the Ministry of Transportation would look at the revival of the narrow gauge to the Port.
The Minister of Finance, Kemi Adeosun, disclosed that the Council granted permission to the ministry to sign a multilateral convention to implement tax treaty related matters to "prevent tax evasion and profit shifting."
Adeosun said: "The benefits are the convention will swiftly modify existing bilateral tax treaties to implement tax treaty related matters in a cost efficient manner instead of individual negotiation and amendment of the treaty.
"It will incorporate into existing tax treaties provisions that will prevent the granting of tax treaty benefit in an appropriate circumstance.
"It will address tax treaty abuse, promote transparency and drastically curtail illicit financial flows and ultimately it will increase the tax revenue of the government," she said.
---
---