Kaduna community where residents cross river to deliver babies
MUHAMMAD SABIU report that for a community close to Kaduna, child delivery is not a tea party as they go through a lot of stress before accessing a health facility with some having their babies in canoes before getting to their destination.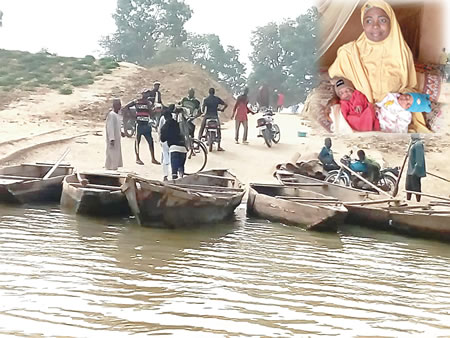 According to the World Health Organisation (WHO), approximately 810 women died every day in 2017 from preventable causes related to pregnancy and childbirth.
The report further indicated that globally, thousands of women die annually from complications during pregnancy, childbirth, or postpartum period, with most deaths occurring in developing countries.
'This trend over the past decades had been adjudged as unacceptable, as it remained a problem of public health importance necessitating the attention of all stakeholders in maternal and child health care.
The WHO listed Nigeria as having the second highest number of annual maternal deaths in the world in 2010 and contributed 14 per cent of all maternal deaths globally.
Statistically, the country has a maternal mortality ratio of about 814 per 100,000 live births as of 2015. However, Maternal Mortality Rate (MMR) figures differs from one geo-political zone to another, with South-Western Nigeria having one of the lowest rates of preventable Maternal and prenatal deaths in the country, going by available data from the National Demographic and Health Survey (NDHS).
In Northern Nigeria, maternal mortality is not only high but remains one of the major health problems facing most communities in the region. NDHS data show that thousands of mothers die every day during child birth, and corresponding high child mortality rate during the process of delivery. Most states in the region are also lacking well-equipped health centres in the rural areas.
A male nurse who has travelled widely in the Northern part of the country and simply identified himself as Abu told Arewa Live in an interview that "You hardly find health personnel or facilities close to the people especially in the rural areas in most part of the Northern region. If you like you can find out yourself."
Speaking further he asked: "Where are the health facilities?" noting that "the concentration of health officials in the cities has contributed a lot to the increasing rate of material mortality."
The story of 30-year-old Zainab Abu, a resident of Makwalla in Kaduna State typifies the problems faced by women living in rural communities in the region which underscores Abu's concerns about the state of health in parts of the north.
According to Zainab who recently gave birth to a set of quadruplets, she was in labour for about 20 hours before she finally gave birth to her babies. The pertinent question is: why did it have to take her so long to have her babies?
Findings by the Arewa Live revealed that her village, Makwalla, has no primary health care centre. More worrisome was the fact that she did not attend any ante natal session when she was pregnant as required for an expectant mother. Thus, when the contractions began, she resigned herself to fate, not knowing what to expect until the babies began to come out one after the other.
Narrating her story to Arewa Live, she said, "We have no hospital in Makwalla. Most of the women in this village give birth at home except for a few who could afford to travel to Kaduna to have their babies.
"In my own case when I was pregnant, I never visited any hospital. I did not attend any ante-natal clinic either. I was just at home nursing my pregnancy until I gave birth."
Explaining further, Zainab said "the cost of transportation and the rigours of going to Kaduna which is about three hours away often discourage many pregnant women from going the distance to have their babies there.
"The stress is often too much to go through and we are afraid that some bad things may even happen before getting to Kaduna if care is not taken. One has to cross a river by canoe to reach Kaduna. All these had been the major concern for the women in this community."
For Zainab, having multiple births is not strange to her because before having her quadruplets, she had already had a set of twins. Just like the case of the quadruplets, she had them at home and without any assistance from anyone.
"God has been wonderful to me. I thought I would not survive the terrible experience (of having babies on my own) but here am I telling you my own story.
"It took me five hours to deliver each of my babies. That is to say 20 hours to deliver all the four babies. It was not easy at all. That was the reason I was crying. The pain was unbelievable and unbearable," she narrated.
Speaking further on the difficult birth experience she went through, Zainab said not only did she fail to attend any antenatal clinic, she had not also been attended to by any medical personnel nor did she take any drug during the pregnancy and after delivery.
"I only took pain reliever and sometimes I take traditional medicine whenever I feel pains during the pregnancy," she said.
Unfortunately, for Zainab this vital lack of pre and post-natal care eventually took its toll on her babies and she lost two of them.
"Most of the women in the village would have loved to space their children but there are no health personnel to guide them on how to go about it. I was devastated when I lost two of my babies and with what has happened I really need help to take care of the two surviving ones," she said.
MallamMohammadu Hassan is Zainab's husband. Though happy over the arrival of the babies, he expressed sadness over the loss of two of them. He decried the pains that most of the pregnant women in the village go through in the process of being pregnant and having their babies due to lack of health facilities in the area and the distance they have to cover before getting access to medical care.
"Most women in this community face many challenges due to the distance they had to travel to seek for medical attention. The primary health care closest to the village is over three hours and the women have to cross Kaduna River before getting there," he said.
He explained further that most of the inhabitants of the village have to use local canoes as a means of crossing the River and then take a motorcycle ride in other to link up with Kaduna for any activity and other transactions they want to engage in.
He appealed to the Kaduna State government to construct a bridge for the eight communities lying behind River Kaduna. He equally called on the government to build hospitals and schools for residents of the villages.
"At some points in times past, many men had lost their pregnant wives while trying to cross the river; and some women had also delivered their babies inside the canoes before crossing the River. We really need help from the government," he declared.
Zainab is not alone in this problem. Most of the women Arewa Live spoke to in the village have similar experiences when they had their own babies too, with only those who had some money or those who could endure the hardship of a three-hour journey to Kaduna eventually having their children in a government health facility.