Kachikwu: Senate to investigate NNPC GMD over alleged $25bn contracts award, insubordination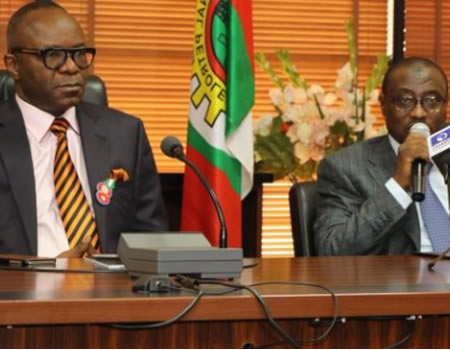 The Senate is investigating insubordination allegations against the Group Managing Director, Nigeria National Petroleum Corporation (NNPC) Mr Maikanti Baru by the Minister of State for Petroleum Resources Mr Ibe Kachikwu.
Among other allegations of malpractices contained in the leaked Kachikwu's letter to President Muhammadu Buhari, it was alleged Baru awarded a $25 billion contracts without his consent as Minister of State for Petroleum Resources.
This was sequel to a motion on "Allegations of Corruption against NNPC Trading: Time to Conduct a Holistic Investigation sponsored by Chairman Senate Committee on Ethics and Privileges Sen. Sam Anyanwu during Wednesday's plenary.
The Upper Legislative Chamber is investigating the allegations made against the GMD by the minister as contained in his leaked letter to President Muhammadu Buhari.
ALSO READ: Kachikwu reports NNPC GMD to Buhari; deplores leakage of document
Debating on the motion, Anyanwu said that the NNPC Trading Limited was a business creation of the Nigeria National Petroleum Corporation
"NNPC Trading is composed of the following outfits, Duke Oil; Hyson/Carlson (JV); NAP Oil (JV); and West Africa-Gas LTD (JV);
"Duke Oil was incorporated in 1989 in Panama and therefore, does not pay tax in Nigeria;
"Duke Oil was specially registered to play a dominant role in the trading of petroleum products especially crude oil trade in the international oil market several years ago."
He said there was general lack of transparency and level playing field in favour of Duke Oil to lift products without payment as against its competitors in the sector.
"This relationship has helped to greatly stifle the growth of indigenous companies operating in the sector," Anyanwu said.
Contributing, Sen. Yusuf Yusuf (APC-Taraba) said when it came to NNPC, investigating just a part of it was not going to solve the problem.
"We have tried with NNPC to come with records and they couldn't. I support the motion and at the same time the holistic investigation of NNPC should go beyond the NNPC but other trading companies like Duke and others should also be investigated.
"Unless we do that, NNPC in the past 15 years have been above everybody in this country. They think they are a government to themselves and so we have to take the bull by the horns since we want to fight corruption, we must fight it in its entirety," he said.
The President of the Senate, Dr Bukola Saraki thereafter constituted an ad hoc committee to investigate the matter and report back to the senate as soon as possible.
"The committee should take the issue seriously "as it is a matter that really go to the roots of what we have committed to Nigerians in stamping out- corruption".
"We hope that the quality of the report will continue to meet the standard we have set in this 8th senate."
The News Agency of Nigeria (NAN) reports that the committee is to be headed by Sen. Aliyu Wammako (APC-Zamfara) while the members included Senators Tayo Alasoadura (APC-Ondo), Kabiru Marafa (APC-Zamfara), Albert Bassey (PDP-Akwa-Ibom), Sam Anyanwu (PDP-Imo), Ahmed Ogembe (PDP-Kogi).
Others are Senators Chukwuka Utazi (PDP-Enugu), Rose Oko (PDP-Cross River) and Babakaka Garbai (APC-Borno).