Buildings, shops and mosque were burnt to ashes on Friday evening at Atatun, Ijaiye Titun area, along Alamala Barracks, in Abeokuta, following the explosion of a taken laden with petroleum product.
Tribune Online gathered that three persons suffered varying degrees of burns and were taken to the Federal Medical Centre, Abeokuta for treatment.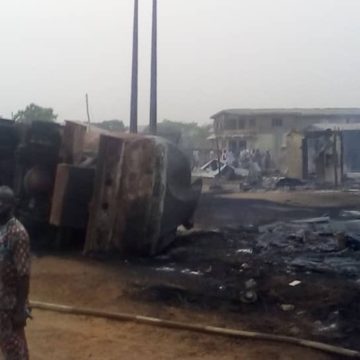 It was learnt that the incident occurred when the tanker parked the vehicle to fix a flat tyre, the vehicle was said to have fell on its side and caught fire.
The three person affected by the raging fire were a vulcanizer who wanted to fix the flat tyre, Ashimiyu Otunba, an old woman said to be the mother of the community village head, Risikatu Otunba and another person whose name could not be ascertained.
ALSO READ: US kicks as Buhari's govt plans to give $100m looted funds to Abacha's ally, Bagudu
An eyewitness, who gave her name as Mrs Olufote, said the ill-fated tanker was parked on a sloppy area and that the tanker fell when the driver alighted from it to fix the flat tyre.
She said: "The  tanker had a spoilt tyre  and in the process of trying to fix  it, the tanker exploded and even the Vulcanizer who was trying to work on the tyre was affected.  
"The vulcanizer was fixing a motorcycle tyre when the tanker exploded.
"Before the fire service could  come to our rescue, everywhere has become ashes.  
"The victims of the fire are currently at the Federal Medical Centre, Idi-Aba. They are three who include the mother of Baale and her daughter. The tanker exploded. Some houses and a mosque got burnt to ashes. 
"There are many houses that were affected, some of the houses were burnt to ashes. In fact, a mosque was also affected.
This incident was confirmed by the Public Relations Officer of the state Traffic Compliance and Enforcement Corps , Babatunde Akinbiyi.
He faulted the tanker driver for parking at a sloppy area to fix a flat tyre, and that the situation had been brought under control.