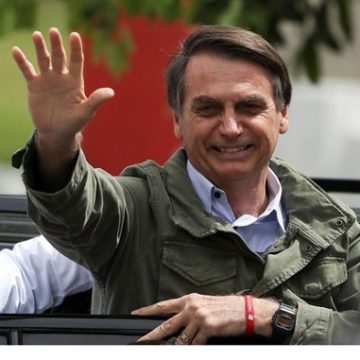 Sao Paulo, Brazil Far-right candidate Jair Bolsonaro won Brazil's presidential elections, signalling a political shift for South America's most populous nation and largest economy.
Official results gave Bolsonaro a 55.2 percent share of the vote in Sunday's runoff, comfortably ahead of Fernando Haddad, the candidate of the center-left Workers' Party (PT), who had 44.8 percent Aljazeera reported.
Bolsonaro gave an internet address via Facebook Live, shunning a traditional press conference because of security concerns. In September, he suffered a near-fatal stabbing at a campaign rally.
"We could no longer be flirting with socialism, communism, populism, and extremism on the left," he said.
Bolsonaro said US President Donald Trump whom he has expressed admiration for called to wish him good luck after his victory in what he called "obviously a very friendly contact".
Supporters wearing T-shirts emblazoned with Bolsonaro's face and Brazil's yellow and green national colours assembled outside his house in the Barra da Tijuca neighbourhood of Rio de Janeiro.
In Sao Paulo, supporters gathered on Avenida Paulista, the city's main thoroughfare, with flags and banners that read Bolsonaro's "Brazil above everything, God above everyone" slogan.
Bolsonaro pledged to defend "the Constitution, democracy and freedom" after winning the polarising election, denying accusations he will turn Brazil towards authoritarianism.
ALSO READ: Can lack of sex cause abdominal pains?
"This is not the promise of a party, nor the word of a man. It is an oath before God," he said in his victory speech.
PT had won the last four elections in Brazil, while its popular founder Luiz Inacio "Lula" da Silva was the frontrunner this year until being barred from running in September because of a corruption conviction.
Throughout the campaign, Bolsonaro promised to crack down on Brazil's violent crime that saw nearly 64,000 homicides last year. He wants to increase gun ownership and has pledged to give police "carte blanche" to kill.
"He'll give us the security that the country needs, behind this education and health care will follow," said Maria Lucia de Almeida, 84, a retired Sao Paulo teacher.
Bolsonaro's rise from a fringe congressman to the presidency has come against a backdrop of economic downturn, political turmoil, mammoth corruption scandals, and rising violence.
Bolsonaro a former army captain is an outspoken supporter of Brazil's brutal and repressive 1964-1985 military dictatorship, a period when hundreds of political opponents were murdered by the state and thousands more tortured.