The Vice-Chancellor, Osun State University, Professor Labode Popoola has urged women to aim high and be available for opportunities by advancing in learning and becoming effective in their career, in furtherance to the 2021 International Women's Day celebration.
Speaking through Professor Janet Olaitan, the Deputy Vice-Chancellor of the University, Professor Popoola said this in his address at the maiden edition of the celebration of International Women's Day in College of Humanities, Ikire campus of the institution, Thursday.
He noted that raising each other up and channeling the power of collaboration is the only way to change gender inequality equation. Urging policymakers to listen to women's expertise and have confidence in their research, he admonished the staff and students of the University to believe in the power of women's solidarity and strengthen women's networks and coalitions.
Earlier, in her opening remarks, the Provost of the College, Professor Temitope Balogun observed that: "in the humanities, we believe in projecting human values and foregrounding the essence of humans which is a key reason why we are joining the globe to mark this year IWD."
According to Professor Balogun, the focus of the event was to encourage women to step out of their cocoons and shells to excel at their various fields. In her presentation titled: "Becoming a Leading Woman in Your Career," she lamented that women in Nigeria particularly and Africa in general are characterized by gender prescription and socio-cultural constructs and that the African woman has been conditioned to see herself as a property rather than a being and partner.
"Society through the use of language and certain voices suppress, oppress, and intimidate women and see them as second-class citizens from the moment of birth. Over the years, due to socio-cultural constructs, women have internalized certain gendered traits and attributes."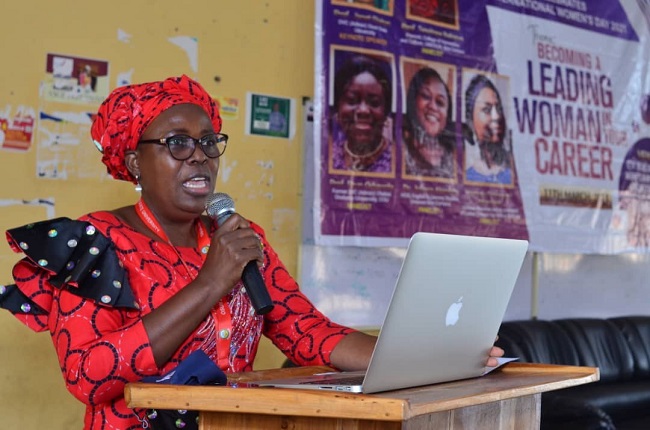 "We will be surprised by the fact that more than 50 per cent of the world's population is female, yet, the most power centered positions of control, leadership and authority are vastly occupied by men. These social narrative and consciousness need a serious conscious and mental change by women so as to push the agenda for equality in all spheres," Professor Temitope disclosed, adding that women should be perceived by herself foremost and as an independent, strong, and powerful human who is capable of much more within and outside the household-kitchen mentality.
Speaking further, the scholar remarked "we cannot mention top successful people in finance in Africa today without mentioning Folorunsho Alakija, ranked by Forbes as the 2nd most powerful woman in Africa in 2018—a real estate mogul, oil tycoon, and business tycoon. This goes to show that despite barriers and challenges, women are successfully making name for themselves in their respective fields."
She advocated for mental restructuring and shift from the social conditions, gendered traits and attributes of the society. She urged women to believe in themselves, have faith and be their very own number one fan and cheerleader on their career path to success, saying "you must be willing to go the extra mile, put in considerable effort, above the ordinary expectations required of a person in your field, in order for you to achieve set goals and breakthrough."
"Never be afraid of starting small, or independently. Do not be crippled by fear of failure and scorn. Remember, to succeed, one must fail. Belief in yourself, take a calculated risk, stay about stereotypical boxes and condition your mind to achieve more."
Also speaking at the occasion, the Dean, Faculty of Arts and Culture, Professor Rotimi Fasan encouraged women to stand up to take society to the next level, pointing out that it is a sign of inferiority complex for a man to discriminate against women.
In the same vein, Professor Ebunoluwa Olufemi and Dr Julianah Akindele in their presentations corroborated the Vice-Chancellor and the Provost saying that women should not only choose to challenge gender inequality but also embrace mentoring and set values for themselves by optimizing various opportunities in the digital age to achieve success in their chosen field.
Dr Akindele particularly noted: "success is never achieved in isolation; successful women are constantly building their network and are never afraid to build alliances with like-minded individuals. Successful women will continuously remove themselves from their comfort zone to progress forward, interacting and gaining exposure to a variety of individuals both in the corporate and non-corporate world. Successful women have a habit of setting goals regularly and have a methodical approach to put in the hard work to make their goals a reality."
Similarly, a girl-child rights campaigner and alumnus of the University, Miss Omowumi Issamotu admonished young women not to be discouraged by events of their past and be resilient to shatter limitations and stand out in whatever they do. The event featured a drama presentation by UNIOSUN Theatre Troupe and a questions and answer session.
YOU SHOULD NOT MISS THESE HEADLINES FROM NIGERIAN TRIBUNE
We Have Not Had Water Supply In Months ― Abeokuta Residents
In spite of the huge investment in the water sector by the government and international organisations, water scarcity has grown to become a perennial nightmare for residents of Abeokuta, the Ogun State capital. This report x-rays the lives and experiences of residents in getting clean, potable and affordable water amidst the surge of COVID-19 cases in the state.