It's time to depersonalise office of governor —Ayorinde
Bolaji Ayorinde, SAN, a former chairman of the Legal Aid Council, is the governorship candidate of the Social Democratic Party (SDP) in Oyo State. He speaks with DAPO FALADE on the governorship election, coming up on Saturday, declaring that the coalition talks seek to demystify and depersonalize the office of the governor in the state.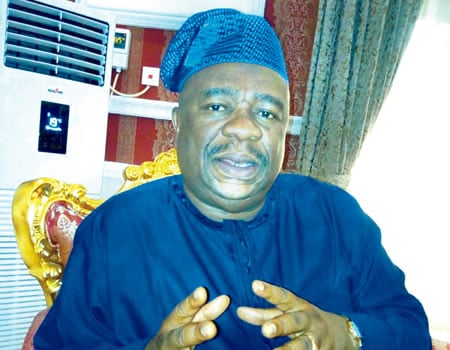 There were apprehensions as the presidential and National Assembly election was held penultimate Saturday. What is your general view on the elections and the one coming up on Saturday?
It is the usual cycle; with this Republic, every election cycle will always be tense; there will always be apprehensions. It would always come as if we never did it before, but after the election, people will calm down and get on with their lives. But it just shows is that there is still too much emphasis on who gets into government as a means of livelihood. You will see that in more developed democracies, elections even take place on week days; you go to your office in the morning, you take a break of one hour to go and cast your vote and you go back to your office. But here, we shut down, not only for one day, now for two days. We are like the Israelites at the Passover where people will move with their families to different villages as if we are having a kind of ritual. But it should not be so. We have to really demystify governance; we have to demystify why you have to go into government.
Don't you think there is an improvement in the 2019 election when compared with the 2015 elections?
I am not sure whether we have improved because we are still cancelling elections; we have had that twice now in the past and that should not happen again. The process has not really improved. Now, if you look at 2015, the only major improvement then and which I hope we will sustain is what the former president, Goodluck Jonathan, did. He said, his ambition is not worth the blood of any Nigerian and he stood by his words. He could have questioned the 2015 elections, after all, the then candidate of the All Progressives Congress (APC), Muhammadu Buhari, did not win by a landslide; just a difference of two million votes and this means a lot in a federal or presidential election. Jonathan may have challenged it, but he chooses to step back, even before the final announcement was made by INEC. That doused the tension. You need to read his book, "My Transition Hours" and you would see that he also went through a lot. The moment he congratulated Buhari, he was relieved, even though he was advised by some to the contrary. That is the major take from the 2015 elections. I hope that in this coming election, whoever wins would build on what happened in 2015.
The fate of Oyo State and its people would be decided on Saturday with several governorship candidates coming out to contest for a single seat. What does this proliferation of candidates portend for the state?
Well, if you look at the size of Oyo State and the configuration of our people, the state is politically very vibrant, with Ibadan, being the political capital of the South-West. So, it is expected that there would be many qualified candidates who would want to vie for that position. But there is a movement among the parties now that, yes, there are several qualified candidates, but maybe we should streamline because the fear has always been the emergence of an almighty governor and that makes everybody to be apprehensive. But if you have an arrangement where you have a unity government and several candidates are involved in forming the government, the governor is mainly an administrator. Of course, he would have his constitutional powers, no doubt. But once we are able to avoid a know-all governor that does not believe in any other person's ideas, then I think we would be okay. So, I believe that we may end up having some form of alliance, just before the election.
You are coming out on the ticket of the Social Democratic Party (SDP). But before now, has there been any kind of meeting between you and other political parties concerning the governorship position and at what point did everybody decided to go his separate ways?
Well, first of all, we all have individual political parties and everybody has gone out; they have campaigned; they have built their strength. For the past few weeks, the director generals of the different candidates have been meeting and I think that is also in the public domain; they have been discussing areas of mutual interest. Now, we are on the final run and the candidates themselves have been talking to each other; having meetings on how to move the state forward. So, we want to depersonalise the Office of the Governor and I keep on saying it that a governor is an administrator; he manages the resources of the people for the people. a governor, with due respect to my wonderful very senior brother, is not a constituted authority. He is there to listen and to serve and that is what we need next so that nobody would be afraid that 'if I am not the governor, then I cannot contribute or be part of governance or government.' I don't need to hold a position in government to be useful to that government. I intend to run for the position of the governor, but I am not coming in as an almighty governor to be worshipped by the people. I want to come in as an administrator who goes there to work for the people; to serve the people and that is it.
You said you are willing to contribute to any government without necessarily holding any position in that government. Were you at any point in time approached by the present administration in the state probably for counseling?
I am always opened and when you say invitation, it could be formal or informal. I interact all the time with the people in authority; I interact with them all the time. Mind you, I have served this state as the Pro-Chancellor and Chairman of LAUTECH, I have been involved in prison decongestion in Oyo State and I have served at the national level as Chairman, Legal Aid Council. So, at every point in time, I have always interacted with the government.
From all indications, it is APC against the other political parties in the state, how formidable is the opposition?
That is what happens in any contest: the defending champion has to defend and the others would attack-attack in the figurative, not violent. Well, for APC, it was easier for them when they were in opposition; they could come on the television everyday and attack the ruling party. Now, it is the other round; they have to defend their years in government. It is more difficult for them and one must admit. So, really and truly, if they had done fantastically well, it would be extremely difficult to question their right to continue. But as you can see, they have had their limitations and, for me, it does not make them bad people; this is democracy. You come in, you try your best. If your best is not good enough, the people have the have the power to vote against you; not that they see you as bad person, but they may just think that you have done your own.
In 2015, we changed the national government. President Jonathan did not die; he still moves around the country and he is still well respected, even more internationally. There was a change and that was the people's power. In 2019, if there is going to be a change, so be it. the people would again go there and put somebody else. Now, if they put somebody else there and he does not measure up, it is only for four years. for example, I don't see a new president coming into office now and would not appoint his ministers in six months because he would have learnt a lesson that you don't keep you administration in limbo for six months before you start the engine. Whoever that wins the election, his administration must immediately start running. That is what obtains abroad: somebody wins an election, the next day he is announcing the people who he is going to be working with because there is no time; a four-year tenure is not long at all. People will learn lessons from the past. So, I think we would be better off as a democracy and as a people if we always have the right and the power to change our government, if they don't measure up.
What should the people of the state expect from you the people actors after the election?
First of all, we must show good leadership. Secondly, we must encourage our people to be law-abiding. Thirdly, we must show that we mean well. One of the major things that you can bring into governance is integrity of purpose. We must show and also act it that the resources of the people belong to the people. If we are able to do that, we would carry the people along; people would see their leaders as working for them; people would see them as their leaders and appreciate them. Once we are able to do that, I think we would have shown our people the right direction.
Don't you think the outcome of the presidential election as affecting the next round of election, especially governorship election in Oyo State?
Well, Oyo State is very unique and votes are usually balkanised. So, the bandwagon effect in the state may not be the way it would happen in the other states. Even here you would see that what resonates well with the voter in Ibarapa is different from what resonates with the voter in Ibadan, Ogbomoso or Oke-Ogun. So, really and truly, what happened in federal election may give the people an indication, but again, it really depends on the local actors in the state.