It's not good for any woman to manipulate herself into position of authority —Fawale, Poly Ibadan Registrar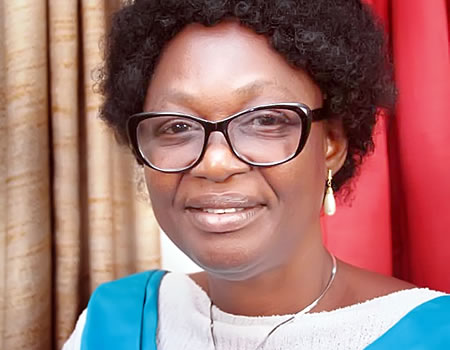 Mrs Modupe Theresa Fawale, the registrar of The Polytechnic Ibadan, Nigeria, in this interview by MODUPE GEORGE, speaks about how her growing up years prepared her for leadership, her passion for education and administrative journey. Excerpts:
C AN we have a peep into your growing up years?
I'm the fifth of eight children. I'm the last of the four girls in the family. My father was the only child of his mother. Growing up was fun and it groomed me to view success in life as something one really needs to work towards.  My father was a teacher and he was always being transferred from one place to another. So, being the only child of his mother, at a stage he decided that he could not leave his mother behind, alone in the town. So, my mother was to go and stay with his mother. I felt it would not be nice for my mother to go alone so I opted to go with her. This decision didn't go well with my father though. While my siblings kept moving on with my father from Ilesa, Abeokuta, Ijebu-Ode and so forth, I was with my mother. Then, my mother had a farm and the farm was about four and a half miles from home and we used to go there every day. On Saturdays, if we are to go to the farm, we would go as early as five O'clock and we would make up two trips to the farm. We would first of all carry firewood to a distance from like Sango through Poly to UI gate to our house and would return to carry cassava. When we reached home, they would put water on fire to make eba for us, but we would not be allowed to eat the eba, until we go back and fetch more firewood. This really taught me to be hard working. With my father you must be up as early as five O'clock, but one thing about him was that, you must be in bed once it is 8.00 p.m. If any child offended my father three times, my father would flog that child three times, which was one of the reasons that I followed my mother. He was such a disciplinarian. All of these experiences have made toughness a simple thing for me to go through. Both my parents were educationists. My father was a teacher and I think he taught in almost every sphere of education from the primary level, to teacher training, Ministry of Education and at tertiary level of education. He became the vice principal of Ayetoro Secondary school and from there he joined The Polytechnic, Ibadan as Deputy Principal II. My mother was a primary school teacher all through.
In what way did your growing up influence what you are doing today?
My growing up influenced my love for teaching and anything that has to do with it. Despite the fact that my Cambridge result was very good, I applied to study education at the University of Ibadan and immediately I was offered admission for English and Religious Studies. One of my colleagues who also had a good result, like a point higher than mine wanted me to study law, ditto one of my sisters' husband then, Professor Onadeko, who was a lecturer at the University of Ife as well as Professor Okuniga, my aunt's husband, who was the Dean of the Faculty of Law, but I said no, because I never liked Law. The reason was that I believed lawyers are good at turning white to red. So from my youthful days I disliked law. My parents prepared me for what I'm doing today, especially my father. He was very strict and I could say that out of all his children, I was the one who took after him. He was very diligent, neat and observant. He was kind to everyone. Even though we had many male servants, you must do your portion of the house chores. When we were growing, we had many extended family members' children living in our house who were raised by my father. He gave them opportunity to have good education and some up to Masters Degree level and they are all successful people today. I learnt a lot of lessons from him.
How did your journey into administration begin?
After my Masters in 1987, I had to wait for almost a year before I could get a job. Later, there was an advertisement from the Ondo State Polytechnic and I applied as an administrator. My father was with the then Ondo State University, Ado Ekiti, before there was a split. I wrote the employment test and I made the cut off point. Only 16 of us were called for appointment, but out of the 16 people I was the only one who had a Masters Degree. I could remember that during the interview I told my employer that my dream was to be employed as the adminstrative officer I (one) and not two as advertised. Eventually I was given the job and that was how I started my career in tertiary education on November 29, 1988 as an administrative officer II (two). Later, I was promoted to administrative officer I in 1991. I got married to my husband the same year. He was in Ibadan and the best thing for me to do was to relocate to Ibadan. However, in 1992,someone assisted us and I was given a temporary appointment here at the Polytechnic Ibadan as an administrative officer 1, though I applied for the the position of a deputy registrar. Fortunately for me,  Osun was created out of Oyo, so, the non-teaching staff were transfered to Ire and Esa-Oke. There was another advertisment here at The Polytechnic Ibadan and I applied for the the position of a  deputy registrar, I got the job and it was a permanent one. So, I  requested that my services with the Ondo State Polytechnic be transfered here and it was duly granted.
What qualities do you think women need to rise through the rank ANDin their professional career?
I believe there must be some administrative qualities that a woman must have at the tip of your hands in order to get to the peak of her career. She must have integrity and knowledge of the rules and regulations guiding her duties. She cannot compromise either the truth or legacy. Whatever you are doing, you must do with every sense of responsibility and be dedicated to your duty. No matter what people are saying; if 10 people are saying this is the way and it is not within the ambit of the law, I won't do it. I don't mind being the odd one out of the 10 people. Also, you must also consider the God factor, if you will be justified for your action. I also don't believe that if I'm fighting with you and I have to work on your file that that should be an opportunity to retaliate. I will only be mindful of what the law says about the situation that is before me. More so, she must rever God, honour her husband, have the support of his family members, her parents, as well as the people she is working with. Most importantly, if women who are under you are probably looking unto God for children or  are yet to be married or are battling with one sickness or the other, endeavour to be close to them and treat them well. The truth is if they are not happy, they cannot put in their best into whatever they are doing. You must always identify with their predicaments and show that you care about them.  Also, with the menfolk, there is no need of putting up an antagonistic attitude; there should be no basis for competition. You just do your work and it will show you forth that you are outstanding.
What would you say has worked for you to work in this capacity?
First and foremost, it's God. I'm not from this state, but if God had destined something to happen, everything will fall in place for what He has destined to take its full course.
There is a belief that when a woman attains a key position she must have manoeuvred some things, what is your take?
I don't believe in that assumption because as a woman, I can't compromise my integrity for anything. I believe if a woman is hard working and focused and has not made money her priority in everything, nothing can stop such a woman from getting to the top. A woman of integrity will not belittle herself to attain a position of authority. It is not a good thing for any woman to manipulate herself to position of authority because, when you get there and you cannot perform, people will not be surprised because you've got whatever you have got through the back door or what they call 'Bottom Power.' It is better to stay focused, know what you are doing and implement decisions in accordance with official guidelines.
In what way has climbing the ladder of your professional career affected your home?
Like I said, I came to Ibadan in 1992 and since then, before I leave my house in the morning, even when I had to leave as early as 5.00 a.m breakfast and lunch must be ready. I could remember between 2001 to 2005 when I was working at the students' affairs unit; there were so many issues with cultism. I had to leave the house by 5am and I would have made breakfast up unto the dinner. This was the time I learnt that during dry season one can cook rice and yam together. The yam will get boiled first; you will remove it from the rice and then leave the rice to be properly cooked.
Sometimes I prepare the dinner and I would still get to work on time. I always leave at the gate whichever cap or crown official duties have put on my head to take up my marital responsibilities. Some three year ago I took a decision that I would be using 'sir' whenever I'm talking to my husband. At a point my husband felt embarrassed and I could remember a sister of mine asking if it was my husband I was addressing with 'sirs.' For instance, I would say, 'good morning sir, I'm going to work sir, etc.
However, I was disadvantage at some point in my relationship with my son, who had known me to be working and working. I did not have enough time for him, because I was working at the student affairs unit when he was growing up. Then, it was tough; I would be the last person to sleep and the first to wake up. I would always have a back log of work to take home. I could remember that whenever he had to do his home work and he asked that 'mummy I don't understand this,' I would say go and check the example. He would check all by himself and say 'mummy I have got it.' It was difficult spending extra time with him. For my husband, he was the outgoing time, while I was a little conservative, so we complement each other. Even sometimes when I over react on issues due to stress, I come around to apologise, even to my messenger and that the kind of person I am.