It's easy to get discouraged as entrepreneur —Oladejo
Adeola Oluwakemi Oladejo, a Nigerian entrepreneur based in the United Kingdom, is a woman of many parts; she is a wig maker, data analyst, computer scientist and information systems expert, as well as a beauty practitioner. In this interview with YEJIDE GBENGA-OGUNDARE, she speaks about her passion for hair beauty business and her plans for this year.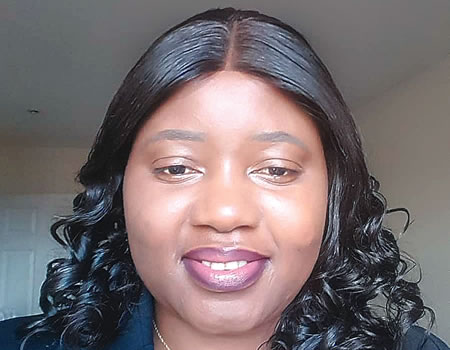 You seem to be a professional in diverse but related fields; can you tell us your educational background?
I have various academics degrees from higher institutions of learning in Nigeria and United Kingdom. I have an Ordinary National Diploma in Computer Science from Osun State College of Technology, Esa Oke, Osun State and a Higher National Diploma from The Polytechnic, Ibadan in Oyo State. I had a Bachelor of Science degree in Computer from the prestigious University of Portsmouth in the UK and a master degree program in Information Systems at the same university. But hair making is my passion and I have transformed that passion into to a thriving business.
What inspired you to go into the hair and beauty profession?
I will like to say that my passion for the hair and beauty profession started from the early stage of my life, while growing up, I always admired my friend's hair as a young girl but I went to a school where all girls must cut their hair and you can imagine how eager I was to start making my hair after secondary school. One of my cousins at the time was a professional hairdresser and she would always allow me to come to her shop whenever I wanted to learn one or two things about her profession and I must confess, that was like a fuel to my already burning passion for the hair and beauty industry. At that time I was and I am still completely obsessed with anything hair which always made me look forward to holidays during my National Diploma years, so I could go to my cousin's shop to learn more.
So as I grew older, my passion for hairstyling continued and it only seemed right to develop myself and strategically think on how this can add value to people as well as be a source of income for me. It was this thinking that made me to finally register formally to undergo some professional training during my National Youths Service when I registered as a trainee hairdresser though I knew I would be travelling to the UK for further studies in Computing and Information Systems. For me, that period was a perfect period to take such a proactive and professional step to actualise my dream.
The hair and beauty industry is large, at what point did you decide that hair beauty and wigs making would be your niche?
Hair beauty is my passion business and data analysis is my profession. As a data analyst, that already requires 40 hours of my time every week, not forgetting that I'm a wife to a very loving husband and a mum to my amazing boys, also knowing how demanding it is to run a business, a home and a full-time job at the same time out of my God given 24 hours in a day, wig helped me to decide on what I can do with my hair beauty knowledge, so I chose wig making. When I registered to learn professionally, I understood very well the strategic nature of this business and the dynamics of the hair beauty industry that it is highly competitive and saturated. This actually made me to strategically carve out a niche in the hair beauty industry for myself to focus on the wig aspect of the business that I love so much. And being a wig maker and owner of Sam Emma Classic Wigs allows me to control my business, dedicate my time effortlessly by making sure the wigs are ready for delivery without disappointing my clients across the world.  I have always had the zeal to focus on what I love and always ready to learn more and perfect my skills and choosing wig making allow my passion to become a reality.
What is the unique selling point of Sam Emma Classic Wigs?
As we all know, the wig and hair beauty market is really flooded, Sam Emma Classic Wigs as a brand has always been known for its customised products, this is well stated in our motto which says "Custom Wigs That Makes You Shine." We are far from one size fit all kind of wigs that I grew up to know. Another factor that differentiates Sam Emma Classic wigs from our competitors is our unique but very affordable cost, we work around each client's budget to create custom and flawless wigs, so whenever you order our wigs; we take you through a unique experience starting from getting your head size right to choosing the hair texture, the length, deciding on your preferred  wig cap, styling and not to forget our wigs are custom made with machine which makes it last longer, believe me you will always get the value for your money with Sam Emma Classic Wigs.
 What are your business plans for 2019?
As we all know that change is a constant thing with the world becoming a  mile a minute, not even a minute but a click with the disruptive technological innovations every day and it's becoming pretty impossible to stay on old ideas and still keep the scale. At Sam Emma Classic wigs, part of our plans is to differentiate ourselves by building the trust level with the client and uphold that trust in this ever-changing marketing world. We also plan to expand on marketing and advertisements as well as connecting more with our client and prospective clients through monthly discounts and sales with some ready to ship wigs.
What challenges do you face as an entrepreneur?
I will say now our major challenge is space, the business needs a lot of space to set things up and currently, we only manage with what we have. Another challenge is the cost of delivery which depends on the destination, our clients are in different part of the world and sending outside the UK can be expensive. Our final challenge now is time management, we always make sure no matter what, clients are not disappointed and with 24 hours in a day that can look like an hour sometimes. But above all it's all a blessing and we are managing the challenges well.
As an entrepreneur it's easy to get discouraged when you are alone or not growing fast as you like to, or doubting yourself, it is okay when you feel that way but you should know one thing, giving up is not an option. Especially when you see others on the social media and you think why your business is not like that yet?
Please embrace your growth. Networking and showcasing your business at every opportunity you get is very important, you can never know who require the services you are offering until you talk about it.
As a professional, wife, mother and entrepreneur, how do you find a balance?
Honestly, it takes the grace of God, understanding, delegation and time management. Undivided attention is needed at all times, all thanks to all my amazing support systems because they are the fuel to my productivity and success stories.