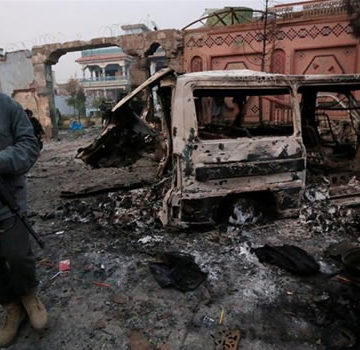 At least three people have been killed in a car bomb and gun attack on the office of the non-governmental organisation, Save the Children, in eastern Afghanistan, according to local officials.
Two security guards and one civilian were killed and at least 25 others were wounded when a suicide attacker detonated a car bomb outside the headquarters of the international charity in Jalalabad early on Wednesday morning.
The Islamic State of Iraq and the Levant (ISIL, also known as ISIS) has claimed responsibility for the attack via the group's Amaq website, describing the targets as "British and Swedish institutes".
Al Jazeera's reported that 47 people were rescued from the office building after Afghan security forces and the attackers battled each other for more than eight hours.
"A harrowing day for them, more than eight-and-a-half hours trapped inside that building with those attackers. They have been rescued," she said.
At least two attackers have been killed since the fighting broke out, Pajhwok Afghan News reported.
Speaking to Al Jazeera from Jalalabad, Humayoon Babur, an Afghan journalist, said the attack had taken place in "the heart of the city".
"[The area] is home to many government buildings … [and] the provincial government office," he said.