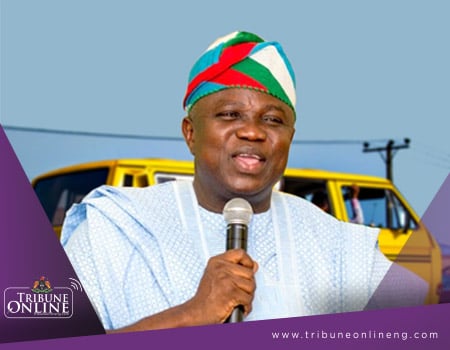 Some  leaders of Isawo community in Ikorodu area of Lagos State have commended Governor Akinwunmi Ambode for reconstructing  Owutu-Isawo road long abandoned by previous administrations.
They made the commendation in separate interviews with the News Agency of Nigeria (NAN).
They said that the road was a deathtrap and was hindering their daily activities.
The Baale of Oke-Oko/Oke-Itapa, Chief Muse Ibrahim, told NAN that the bad road had prevented many vehicles from plying the route during rainy season.
"This road leads to many communities in Ikorodu area. The condition of the road became so bad as successive governments before Ambode did nothing to make the road passable.
"We spent more money going out and coming in as only few transporters were willing to go to our area. Only motorcycle operators carry two persons.
"The governor is not only constructing the road, but linking it to Arepo on the Lagos-Ibadan highway.
"We want the construction company to expedite action on the road with a view to completing it as scheduled," Ibrahim said.
Chairman of Abule-Oba Community Development Association in Isawo, Ikorodu, Mr Bola Owojuyugbe, said the road was one of the major challenges they faced and praised the state governor for its reconstruction.
According to him, the reconstruction of the road was inaugurated in August 2017 and would be completed within 18 months.
Also speaking, Secretary of Isawo CDA, Mr Akinyan Gbenga,  told NAN that motorcyclists were now charging N400 transport fare to Isawo from Agric Bus Stop as against the previous N150.
"On a normal day, we used to pay N100 as transport fare to our destinations, but commercial vehicles now collect between N200 and N250.
"The tricycle operator charges between N350 and N400 for the same distance.
"We appeal to the government to monitor the  project strictly so that it will be completed in time and save us from this hardship," Gbenga said.
NAN reported that the construction company has started working on one of the bridges along the road, while some palliative works are being done to make the road passable.