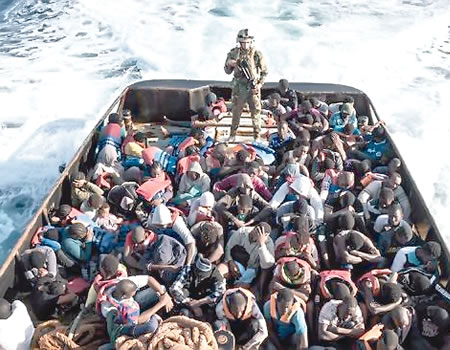 The first group of slave traders to transact in Nigeria were the Portuguese in 1472. The most prominent Nigerian sold to Portuguese slave traders was Samuel Ajayi Crowther in 1841. The slaves were sold by Nigerian rulers, warriors and influential members of Nigeria.
Nigerians got into slavery either through being sold by our rulers in exchange for dry gin, mirror and the host of insignificant materials or by kidnapping.
This demonstrated the long history of corruption among Nigerian leaders. The air of freedom was felt by Nigerians when the British abolished slave trade but the move was resisted by Europeans, Americans and Portuguese slave traders. Illegal slave trading persisted for several decades until it finally stopped.
Nigeria was then colonised by the British government which, depicts our status as Anglophone country (English-speaking country) which is the language of our colonial masters).
A memorable event occurred in 1960 that put smiles on the faces of nationalists as Nigeria got her independence and became a republic in 1963. But since the advent of the freedom, the question still remains: Are we really out of slavery in Nigeria? The question is needful as all aspects of Nigerians are controlled indirectly by our colonial masters and other western and advanced countries of the world.
Educationally, are we not slaves to the western countries? Children of the rich and politicians seek better education abroad where there will be no delay due to strike actions or lack of necessary materials and infrastructures needed for learning.
Also, certificates that will be recognised in Nigeria and outside Nigeria must be printed by the western countries of the world.
Nigerian government needs to be sensitive to this challenge to prevent academic slavery in Nigeria. The pathetic part of it is the issue of Boko Haram that is militating against academic development in our country.
In the area of health, are we not slaves? The rich, politicians, top government officials seek better medical care outside Nigeria. Several poor Nigerians die of minor illnesses due to lack of drugs, personnel and required equipment.
Nigerian government should work towards freeing Nigerians from health slavery by making our hospitals and health centres closer to what is in place in advanced countries of the world.
Are we free politically in Nigeria? The answer is no. Ballot papers and election materials are procured with billions of naira from overseas countries which boost their economy while we undergo persistent artificial economic recession in Nigeria.
Also, for election results to be credible in Nigeria, international observers from the  Western world must attest to it.
This is a clarion call on the government, stakeholders and concerned individuals to emancipate Nigeria from slavery that has bedeviled her.
Akintola David Akinjide (Ph.D.)
akinjide17@gmail.com