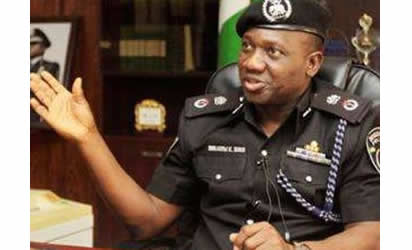 A member of the Independent Petroleum Marketers Association of Nigeria (IPMAN) in Kwara state, Alhaji Abdulkareem Adekunle Sanni, has sued the Inspector General of Police, Alhaji Ibrahim Idris, over forceful sales of his over 1,000 litres of PMS (Petrol) and illegal detention of his staff.
He has, therefore, asked for N10.5 million as compensation and damages.
The plaintiffs' counsel, Dr Dauda Ariyo Osu, on Thursday told an Ilorin Federal High court that the IGP's monitoring team came to RABSAN Ventures limited, along Gaa Akanbi, Ilorin on February 20, 2018 and that despite explanations that the 1,000 litres of PMS were reserved for family members and friends, the officers forced the staff to sell the product, and went on to arrest and detain the staff for two days.
He also told the court that he was curious about the attitude of the IGP'S men who insisted that his staff, a stroke patient, must take them to his residence and that because he refused their directive, they beat him mercilessly in the presence of his wife before they took him away and detained him.
The council also argued that the monitoring of petrol stations was not the schedule of the Nigerian police, but that of the established Department of Petroleum Resources (DPR), which also has its office in Ilorin.
ALSO READ: Court frustrates IGP's bid to stop contempt charge by Peace Corps
The IPMAN chieftain further asked the court to restrain the Inspector-general of police, or any of his agents, from further carrying out such activities in his company both now and in the future.
He described the act as illegal, unlawful, baseless and unconstitutional, and that it violates their fundamental human rights.
Responding, Justice N.I Afolabi granted the relief of the plaintiff's counsel to serve the Inspector General of police in his office in Abuja in suit FHC/IL/CS/12/2018 RABSAN Ventures limited, Mallam Al-Hassan Buro Bako, and Taofeek Sanni Vs Inspector General of police, AC Adegboyega officer-in-charge of IGP Monitoring team, Ilorin.
The case was adjourned to March 15, 2018, for further hearing.