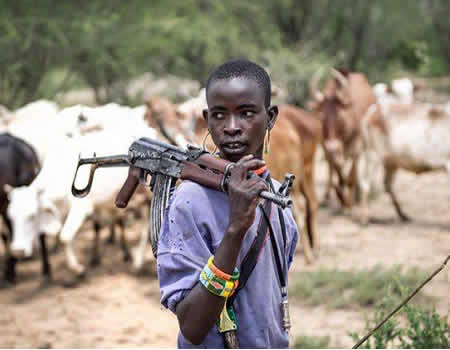 Gov Godwin Obaseki of Edo on Wednesday directed the Commissioner of Police, Haliru Gwandu, to intensify investigations into a recent killing blamed on suspected herdsmen.
Obaseki gave the directive when he paid condolence visit to Ukpenu community in Esan West Local Government where a widow was found dead on her farm on Tuesday.
The governor, represented by Philip Shaibu, his deputy, called on vigilance groups and hunters in the area to rise up to the challenge and collaborate with security agencies in providing protection for farmers.
He said that the government was already investigating how the suspected killer herdsmen gained entry into the state.
Obaseki also advised the people to go to their farms in groups and assured them that government was working out lasting solutions to the problem.
The News Agency of Nigeria (NAN) reports that the 68-year-old victim, Mrs Margaret Odiamehi, was a widow and mother of six children.
The first son of the deceased, Mr Joseph Odiamehi, said his mother went to her farm and never returned.
He said that his late mum was later found dead with her throat slit at night by a search party organised by the community.