Invasion of Ekiti by Fulani herdsmen cause for concern —Aloba, Ekiti APC chief
A chieftain of the All Progressives Congress (APC) in Ekiti State and a former chairman of Ikere Local Government Area, Chief Bisi Aloba, in this interview by SAM NWAOKO, speaks on issues affecting the party, especially in the South West; Governor Kayode Fayemi and other issues. Excerpt: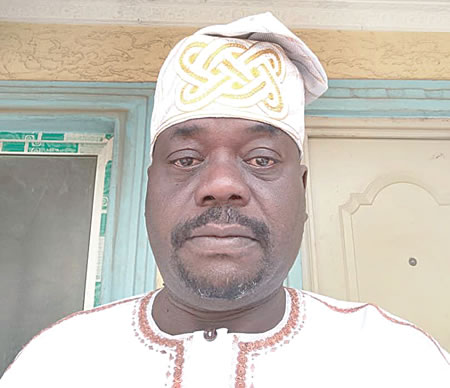 Your state, Ekiti, being the first in the South West to pass the bill establishing Amotekun security outfit into law, appears to be at the forefront of the quest to bring Amotekun to fruition. What is the attraction and why the hurry?
To start with, recently, Fulani herdsmen invaded some of our communities in Ekiti State. That invasion at Orin-Ekiti and the previous ones at some of our boundary communities with Kwara State was a cause for concern. They killed people on their farms and raped our women. So, Amotekun is a priority to Ekiti people and that is why the state's House of Assembly intensified efforts on the bill and expedited action on its passage. Secondly, our governor, Dr Kayode Fayemi, is a security-conscious governor who made security one of his cardinal programmes. Besides, he is an expert in security and has to bring this to bear on his governance of the state and incidentally, the issue of Amotekun came up, and it was part of his agenda already. So, I think he has handled the issue of security well.
There were lots of misgivings from the North on the establishment of the security outfit, especially when there had not been legislation to back it up. How would you react to the outcry against the security outfit by the North, given the security situation that brought it about?
Regarding the laws that should back Amotekun, we should realise that there are existing laws that back the establishment of community policing. So, on the basis of that, there should not be any problems. On the reaction of the North, I will say that they were simply being hypocritical. This is because they know that some criminal elements come from the North with their cattle, drive our people away from their farms, kill those who resist them and yet they want us to fold our arms and do nothing. If we are not careful, we might starve because fear of the Fulani has driven many of our people away from the farms in the South West. But with the coming of Amotekun, there is renewed confidence in our people and farmers can go about their lawful businesses without fear of losing their crops or even their lives. The North is just not being truthful with the security situation and we here in the South West must not deceive ourselves.
Have you thought of the needed cooperation by the various states of the region, do you envisage sabotage?
You will notice that this security issue unified the South West like many of us had not witnessed before. It went beyond political parties, APC or PDP or whatever, everyone spoke in unison for its establishment. It is a unifying factor. So, when we consider the unity that brought about the outfit, I do not foresee sabotage. This security issue united the communities, the traditional rulers; governors, OPC, vigilante groups; hunters, everybody. However, we should also be vigilant and ensure that the outfit operates as it should.
The APC in Ekiti State recently kicked against the move to announce former governor of Oyo State, Senator Abiola Ajomobi, as the Deputy National Chairman (South) of the party. Why have you done this and to what end?
I do not think that Senator Ajimobi has been picked as the new Deputy National Chairman, so whatever announcement in that light should be taken as rumour. However, I know that the leadership of the party has zoned the position to the South West at its last congress, and the South West met and zoned it to Ekiti. We believe that if somebody from Ekiti is leaving the position, another person from Ekiti should occupy the position. That has been the privilege enjoyed by other states. It happened to Kwara State. When Lai Mohammed was leaving the party's position, another person from the state was appointed to replace him. When that person also left with Senator Bukola Saraki, yet another person from Kwara replaced him. Why is that of Ekiti different? We should not be treated as second class citizens or as slaves of the other states. We are all equal as independent states; we are not under any state in the South West. So, whatever belongs to us must be released to us. Already, there are two persons from Oyo State in the National Executive Council (NEC) of APC, the only one we have in NEC, they want to take away. That means that Ekiti will not be represented. If they say they want a governor, our own should be there. There are two already from Oyo State. When Ajimobi was the governor, APC lost the state. Would he now perform better as a deputy national chairman? It isn't fair to deny Ekiti of what belongs to the state on the grounds that we have no governor in Oyo. With him as a governor, we lost the state and as deputy national chairman, he will even make it worse.
There are rumours that Governor Fayemi is being primed for a higher post in 2023. The rumour mill has also hinged his activities as being tailored to suit the 2023 scenario. How do you see this?
Fayemi is a gift to Ekiti State and his second coming is like Ekiti waking up. He is touching everything he couldn't do in his first term, including projects abandoned by the administration of former Governor Ayo Fayose. Beyond this, he is even going back to those of the Segun Oni era. The secretariat building, market projects and so on. Talking about presidency, Ekiti is also qualified to produce the president of this country. This is not to talk of a brilliant, young, vibrant strong and articulate man like Dr Kayode Fayemi. I think Ekiti should be able to present a young man who will be able to take Nigeria to a greater height. However, he has not told anyone that he wants to contest. I think people are just carrying the rumour because, as the chairman of the Governors' Forum and his popularity, they are seeing him as a possible choice. If he wants to contest, I believe that Ekiti people will be behind him. An Ekiti man can be president and Dr Fayemi would do very well.