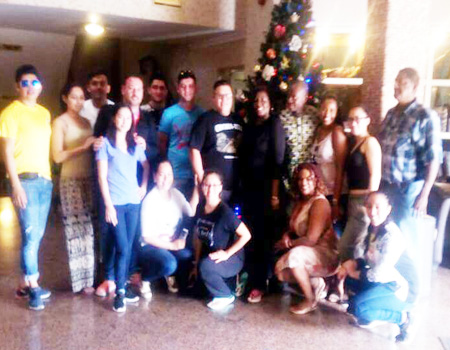 FOLLOWING the successful completion of the three pre-Carnival rehearsals called Dryrun, the biggest street party in Africa, Carnival Calabar, has started receiving arrivals of the international contingents for the international Carnival line up.
With the home front band Seagull, Passion 4, Masta Blasta, Bayside and Freedom in full force to trill over 50, 000 audiences from Cross River State, other states in Nigeria and foreign participants, international bands from different countries have been arriving the Nnamdi Azikiwe International Airport and the Muriana International Airport in Abuja and Lagos respectively.
Already, information reaching Travelpulse&MICE indicates that Mexico, USA and Belize have hit the Margaret Expo International Airport, Calabar.
According to the Chairman, Carnival Calabar, Mr Gabriel Onah, who break the news on his social media handle (facebook) said " Contingents to Calabar Carnival 2017 with theme 'MIGRATION' started arriving in the ancient city of Calabar on Christmas day.
"Led by a Carnival influencer and adjudicator at Carnival Calabar, Mrs Tourism, United Nations, Ebele Enemchukwu, they have just arrived Margaret Ekpo International Airport Calabar with carnival teams from Mexico, USA and Belize.
Onah also added that the international Observer from Trinidad and Tobago, Mr David Lopez arrived on
Christmas
Eve and over 15 other countries are expected.
Similarly, the Carnival Calabar International Consultant and founder The Team Africa (TTA), Mr Ikechi Uko has also revealed that more contingents have successfully touchdown at Abuja and Lagos international airport with a prompt and onward transfer of the foreign team to Calabar.
According to Uko, Ethiopians contingent is on the way to Calabar for the Carnival.
Known for his drone selfies, Uko has already hit the social media with the excitement of the foreign arrivals for the biggest Street party in Africa.
His Facebook post reads, "a drone selfie with the group at the immigration office, Nnamdi Azikiwe Airport, Abuja. International Carnival loading fast and countries are arriving Lagos and Abuja. "Ethiopia is coming for the first time this year. Same as Mexico, Tanzania and Swaziland.  He, however, reminded Carnival Calabar love saying "Let's meet in Calabar on 
28th and 29th of December
.
Already, there are indications that the 2017 Carnival Calabar which is going to be far departing from the previous events according to Uko who opens up in Addis Ababa. He recently said: "are taking the international Carnival to a more enviable level with newer attractions that will blow the minds of audiences."
"We are reloading this year's carnival with pure unexpected experience."