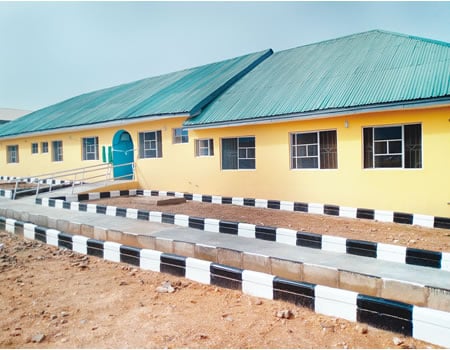 As the wave of technological development has advanced production in every sector of business, the construction industry in Nigeria is yet to take a giant step in this era of innovative approach to project planning and execution.
Highlighting the seeming impediments to the realisation of this ideal, the CEO/MD, Reo-Habilis Construction Limited, Mr Kunle Awobodu, who is the immediate past president, Building Collapse Prevention Guide (BCPG),  in a paper delivered at the Covenant University, Ota, Ogun State, recently, noted the need for collaboration among the stakeholders on how to mentor young professionals to be abreast of modern challenges in the building industry.
Awobodu, who is currently the First Vice President, Nigerian Institute of Building (NIOB), also stated that there should be a template capable of engendering stimulus for research and creativity that could be of enormous assistance to the aspiring young minds who want to make career in building profession.
"A panoramic assessment of various construction sites across the nation would reveal a not too significant difference between the site production methodology of the past and present," he said.
He contended that "design and documentation process; sub-soil investigation method of using pilcon rig and SPT rods still subsists, while the method of laying sand-crete blocks that used to be in vogue in the 1980's  still exists today.
"Besides, screeding and rendering are still being achieved using trowel and range, while the roof trusses are still being assembled with the aid of hammer and nails. The system of tiling has not significantly changed with concreting and iron bending methods record slow improvement."
According to him, the process of development requires a proper understanding of the existing method and aspiration for method improvement, and that without consistency, it is impossible to break new grounds.
He was also of the belief that what drives consistency is passion. The level of interest reinforced by curiosity makes the process of discovering new things become sustainable.
"The period of youth service is an interface between academic and practice realms. It is a period that graduates, who are fortunate to serve in construction companies, should focus attention on critical study of the construction process in order to discover the latent development potentials.
"So, building graduates that find themselves in teaching or other non relevant primary assignment should endeavour to search for sites where they can acquire knowledge on part time basis", Awobodu admonished.
However, he contended that the professional and regulatory bodies in building construction in Nigeria, especially, the Nigerian Institute of Building  (NIOB) and the Council of Registered Builders of Nigeria (CORBON)  should partner with other industry stakeholders to set up a functional research institute and laboratory for young builders to explore their creativity and expand their horizons.
This research institute, according to him, should be managed by young and vibrant professionals with creative thinking under the supervision of the NIOB executive and CORBON board members, while the research institute should showcase several innovative tools and equipment, which Nigerian builders need to adopt to increase productivity.
"In addition, the research institute should regularly provide updates on latest breakthroughs in the global construction industry as well as progress report on its ongoing research work," he said.
"Furthermore, higher institutions need to partner with the professional body, NIOB, to organise competitions among young builders in higher institutions. These competitions could be in the form of practicals or idea pitch. The winning idea and team gets the backing of the NIOB and with the help of the established research institute, the idea is converted into a functional product or in the case of a practical-based competition, the winning product is refined and commercialised with all relevant stakeholders profiting from the yields", said Awobodu, noting that such engaging competition gives young builders a sense of belonging and increases their appetite for healthy competition; making them become more creative and global solution providers.
Most importantly, he was of the view that NIOB/ CORBON should jointly create award events to recognise indigenous construction companies that are pioneering in leadership and innovations. Such companies would serve as role models to young Builders, serving as a beacon of hope and a source of inspiration. Specialisation in different areas of building should be encouraged as it promotes expertness.
"The world has become a hub for entrepreneurship and it takes the creativity and innovation to remain relevant in this present times. Technological advancement is revolutionising the building industry and it is just a matter of time before the building industry undergoes a huge disruption.
"The young professional builders in Nigeria are encouraged to look beyond the present state of the construction industry and familiarise themselves with global industry trends. The scale and pace of change sweeping across the construction industry means that construction professionals must position themselves strategically to embrace the new world.
"In the same vein, young Builders must train themselves into being innovative through creative thinking and empower themselves with requisite entrepreneurial skills to complement their technical acumen and make them thrive successfully in the industry", he concluded.