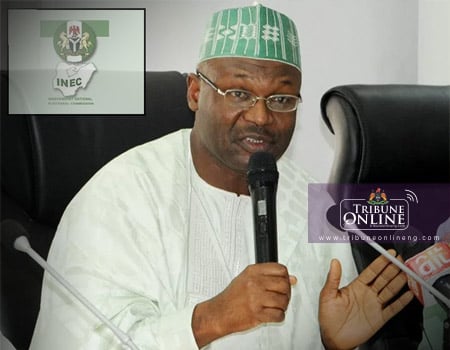 The Independent National Electoral Commission (INEC) says it has ordered the removal of the names of 190 non-Nigerians from the country's Voter Register as part of measures to clean up the register.
The commission disclosed this in a statement issued by its Director of Voter Education and Publicity, Mr Oluwole Osaze-Uzzi on Thursday in Abuja.
The Nigerian Immigration Service (NIS) recently retrieved several Permanent Voter Cards (PVCs) and National Identity cards from foreigners who were alleged to have registered as voters.
Osaze-Uzzi reiterated INEC commitment in ensuring that the Voter Register was free from unqualified registrations.
This according to the commission is also to ensure that the register of voters' meets internationally accepted standards.
"INEC will continue to strengthen its relationship with security agencies and other organisations in ensuring that the electoral process is improved," he said.
Meanwhile, the commission has decentralised the on-going nationwide Continuous Voter Registration (CVR) in Anambra to the Registration Areas, ahead of the Nov. 18 governorship election in the state.
"The move by the Commission to decentralise the registration from the 21 Local Government offices to the 326 Registration Areas in the state, is aimed at bringing the exercise closer to the people.
"It is also to ensure that every eligible Nigerian in the state was captured in the exercise."
INEC said the decentralisation would be between Aug. 10 and Aug. 15, adding that thereafter, the exercise would be officially suspended until after the election.
"This is to enable the commission print and distribute the PVCs of all registered voters in Anambra.
The commission warned that the decentralisation should not be mis-understood for a fresh voter registration for those who had registered before.
"It should be seen as an opportunity for eligible citizens who have not registered before and those whose names were not found on the voters register to get registered.
"The CVR also provides a window for those who wish to transfer their registration details to another location to do so.
"It will as well provide room for those who have lost their PVCs to apply for replacement."
Osaze-Uzzi said that the commission would display register of voters in state at the registration centres from Aug.16 to Aug. 20.
INEC said the display would enable registrants in the state to check the details of their registrations and seek for correction, where necessary.