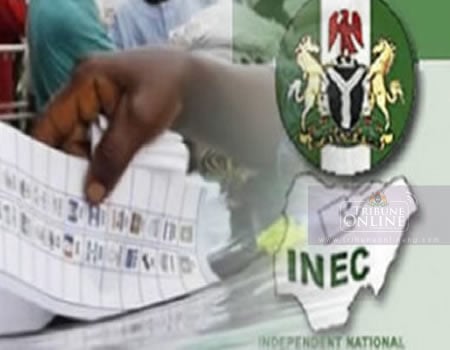 THE Independent National Electoral Commission (INEC), has inaugurated a 13-member security sub-committee for the 2019 general elections in Ebonyi.
The sub-committee was inaugurated by Mr Titus Sumba-Lamorde, the Commissioner of Police, Ebonyi Command and chairman of the Inter Agency Consultative on Election Security (IACES), on Friday in Abakaliki.
The 13-member sub-committee has the mandate to articulate security strategies ahead of the 2019 general elections in the state.
The News Agency of Nigeria (NAN) reports that the sub-committee was made up of representatives from security agencies in IACES, including Police Army, Prisons, Road Safety, Drugs Law Enforcement Agency , Civil Defence, Immigration, among others.
The police boss, represented by the Deputy Commissioner of Police, Mr Samuel Yomi, urged committee members to discharge their duties with diligence.
According to him, the establishment of the IACES sub-committee is one of the decisions reached at the IACES meeting held recently.
He noted that providing effective security at elections called for synergy and collaboration among security agencies and personnel involved in elections security.
He observed that security was critical in any election, saying that problems were bound to occur if adequate security measures were not in place to secure lives and election materials.
He said that the strategic security arrangements being put in place by INEC ahead of the elections was to ensure that no aspect of security issues was compromised.
He said: "Security is not a one man business, it is a joint effort and collaboration and we have to synergise and that is why we have so many people who are security officials in the committee.
"Security is one of the essential things to think and talk about preparatory to any election and where security is in-adequate or lacking during election there is likely going to be problem."
He said that INEC was thinking ahead of 2019 general elections to put in place strategies to enhance security arrangements before, during and after the elections.
Earlier, the INEC Ebonyi Resident Electoral Commissioner (REC), Prof. Godswill Obioma, appreciated various agencies represented in IACES for sending high level officials to constitute the sub-committee.
He said that IACES considered the need to begin early to plan for security strategies ahead of time in its quest to ensure comprehensive security arrangements for the forthcoming general elections in Ebonyi.
The resident commissioner urged the committee to come up with effective security strategies to mitigate any security challenges for the 2019 elections.
He said that the inauguration of the Security Strategy Planning Sub-Committee was part of the early preparatory arrangements embarked upon by the commission to ensure credible elections in Ebonyi.
The REC said that the national headquarters of INEC had directed states to mobilise internal resources and to put them in place ahead of time stressing that the inauguration was in compliance to the directive.
"The election is less than one year from now and preparations for the elections have kicked off well in earnest.
"Our national office has asked state offices to go back and put in place all activities that will prepare us for the elections of 2019.
"What we are doing today is one of those activities; to think and plan ahead of time in terms of security.
" Security is very very important in our quest to achieve credible, free and fair elections in 2019.
"We will not want to wait until two or three months to the elections to begin to plan, that is why we have set up this sub-committee on security strategy planning.
"The team will begin now to articulate what it will take to secure the state and make it safe for the elections, " Obioma said.
The sub-committee was given eight-terms of reference and expected to submit its report to IACES at its quarterly meeting in May.
The terms of reference include: to prepare strategic security plan that is all encompassing, identify the number of election security operatives required in each of the 13 local government areas, among others.
The sub-committee head by Mr Enyinnaya Adiogu, an Assistant Commissioner of Police, thanked the IACES for finding them fit, and promised they would do a good job.
---
---